Topeka — In the war on terror, Kansas' local health departments are making great improvements, according to a report released Friday. But officials refused to divulge information on progress at individual agencies.
"If you infuse money into the system, the system will produce results," said Dr. Gianfranco Pezzino, director of public health studies for the Kansas Health Institute, which conducted the study the report was based upon.
Nationally, the federal government has pumped hundreds of millions of dollars into states to beef up the front line of defense in case of a terrorist attack and, in Kansas, county health departments are part of that front line.
Should bioterrorists strike, the departments are expected to be ready with vaccines, medical personnel and response plans.
State officials have allocated a portion of the federal funds, $11.4 million in the past two years, to local health departments to improve their preparedness, officials said.
The new study covers the first year of increased bioterrorism funding, which was $5.3 million from August 2002 to August 2003.
Based on surveys completed by the health departments, the agencies statewide improved preparedness levels by 27.7 percent, the study said.
"Local health departments across the state are much more prepared now to handle bioterrorism events and natural emergencies." said Rod Bremby, secretary of the Kansas Department of Health and Environment.
"The findings are very positive," said Richard Morrissey, acting director of health for KDHE.
Wide disparities
But the report also indicated there was a wide disparity in preparedness levels, with rural areas lagging behind the rest of the state.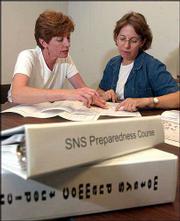 Still, information on which county health departments are doing a good job and which ones aren't was not included in the $165,000 report.
Morrissey said the state would not release county-by-county information because of security concerns.
"We're trying to avoid a ranking that says, I'm a terrorist. Here's where I need to go," he said.
Individual health agencies were free to talk about what they had accomplished, Morrissey said.
"We're certainly not gagging anyone," he said.
Douglas County
The Lawrence-Douglas County Health Department has received $260,000 in the past two years to counter bioterrorism, according to state and local officials.
Charlotte Marthaler, director of planning and policy at the department, said the money had been put to good use, improving communications networks and setting up systems that need to be in place in an emergency.
The funding has enabled the department to set up a "situation room" where emergency workers and investigators can meet, plan and access the same computer network; develop a medical reserve corps where volunteers are trained to fill emergency roles; and plan for mass dispensing of vaccinations.
Marthaler said the new report showed the bioterror funds had been well spent.
"There is more work to be done, but we have been able to take the federal funds and make progress," she said.
County officials also noted that the funding has improved their ability to respond to natural disasters.
Marthaler said the Lawrence-Douglas County Health Department's situation room was used by Centers for Disease Control inspectors who came to Lawrence last year during an outbreak of cryptosporidiosis.
Joe Conner, director of the public health department in Wyandotte County, said the terrorism funds helped his agency dispense tetanus shots after a tornado last year.
"The system itself is better," he said.
Health departments were surveyed on a wide range of preparedness levels from questions dealing with how the agency disseminated information during an emergency to protocols and procedures for handling specimens and samples.
"The assessments were helpful and covered a lot of areas," Marthaler said.
The report can be accessed on the Kansas Health Institute Web site, www.khi.org and the Kansas Department of Health and Environment Web site, www.kdhe.state.ks.us.
Copyright 2018 The Lawrence Journal-World. All rights reserved. This material may not be published, broadcast, rewritten or redistributed. We strive to uphold our values for every story published.