TOLEDO, OHIO — Sam Burnett walks through the grocery store, making sure the aisles are wide, the canned goods are within reach and prices are easy to see.
Burnett is a secret shopper of sorts -- a volunteer who evaluates whether stores are "elder friendly." He works for the Area Office on Aging of Northwest Ohio, one of 11 government agencies in cities nationwide that check businesses and public places and advise them how to remove the obstacles that older people face.
The changes are significant -- pharmacies adding benches to give shoppers a place to rest, grocery stores taking big containers off the highest shelves and restaurants training employees on the special needs of older customers.
"Once they began to hear what our concerns were, they started to pay attention," said Burnett, 72, a retired school administrator.
None of the 11 cities with programs are in Kansas, but Janet Ikenberry, community services manager at the Douglas County Senior Services, said the idea made a lot of sense.
"Reaching can be real hard for some seniors and there's all types of issues when it comes to vision problems or stooping to pick something up," Ikenberry said. "There's a lot to think about."
The Elder Friendly program began in Portland, Ore., in 1995. Since then 190 businesses in the area ranging from auto repair shops to funeral homes have been deemed accessible and accommodating to older adults. They're also listed in a directory that is distributed in town.
Businesses ask to be evaluated. The program isn't meant to be punitive.
In the beginning, businesses were reluctant, said Becky Wehrli, executive director of Portland's Elders in Action.
"A lot of them didn't understand why they should target the older market," she said. "They didn't know what the benefits would be for them."
That's not a problem anymore.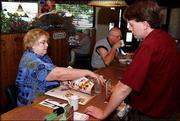 "We've made it a point to say elder friendly is good for all customers," Wehrli said. "Mothers with young babies want wide aisles and easy access to restrooms, too."
Older adults also represent a fast growing segment of the population. It's expected their numbers nationwide could nearly double in the next 25 years and that one in five Americans will be older than 65.
Stores are beginning to see the value in attracting those customers.
"Besides being the right thing to do, it's good for business," said Gary Huddleston, a spokesman for Kroger Co.
The grocery chain offers older customers their own keys to its motorized carts so they don't have to stop at the customer service desk. Its new stores are designed with wide aisles and restrooms near the front.
Glayda Sutter, 84, said the Kroger store in Toledo where she shops could use a bench so that older shoppers could take a break.
"I know some people that won't come because it's too much walking," she said.
Shari's Restaurants, which has about 30 locations around Portland, replaced the springs on its doors after hearing how heavy they were for older customers.
Some of its restaurants dedicated parking spots for seniors only, said David Archer, a company spokesman. The changes were a result of suggestions from Elder Friendly volunteers.
"They look at it from different eyes," Archer said. "It makes sense."
The program has expanded to Oklahoma City, Tulsa and Muskogee, Okla.; Gainesville and Brunswick, Ga.; Waterloo, Iowa; Oakpark, Ill.; Albany, Ore.; and Montgomery, Ala.
Wehrli, whose organization helps other agencies start Elder Friendly, said budget cuts facing many social service groups and the daunting task of adding a new program have hindered its expansion.
The Areawide Aging Agency in Oklahoma City started the program a year ago and has certified 20 businesses.
A hospital added mirrors at its cafeteria buffet table so customers in wheelchairs could see all the offerings. Following a review, a toy store realized it needed to clear bulky displays out of aisles.
Even the agency's office needed a fix, said Jeton Woody, director of the Elder Friendly program. A few volunteers complained that the building's doors were too heavy, so automatic doors were installed.
"Seniors call regularly to find out if a certain business is certified," Woody said. "They want to shop at places that are elder friendly."
The program evaluates grocery stores in the Toledo area.
Teams of three or four people visit the stores at different times of the day, usually during a two-week period. Stores don't know they're coming. The volunteers fill out a 13-page evaluation, noting such things as whether the stores had consistent lighting and a helpful staff.
Once the evaluators have finished looking through a business, they meet with store managers to suggest improvements.
Burnett, who said he always left the shopping to his wife before he started going undercover in the stores, said the results had been rewarding.
"I feel like I've made a contribution," he said. "The older I get the more concerned I am about things like seniors being able to find the restrooms. I never thought of that before."
Copyright 2018 The Associated Press. All rights reserved. This material may not be published, broadcast, rewritten or redistributed. We strive to uphold our values for every story published.