For teams that traveled from as far as Texas and South Dakota for this weekend's American Fastpitch Assn. "B" Girls National Tournament, Friday's rain caused only travel-plan changes and frustration.
For the 16-and-under Phenix T's, it was a blessing in disguise.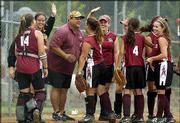 Gary Tanner's team originally was scheduled to play at 8 a.m. Friday, but the weather caused the third day of the double-elimination tournament to start at 4 p.m at Clinton Lake Softball Complex.
"That really would have been a detriment," Tanner said of playing at 8 a.m. "So the rain actually was good for us."
After his players had a chance to sleep a little later, they showed up, took care of business, and after defeating the Tartan (Minn.) Titans, 5-4, will continue their trek through the losers bracket at 11 this morning.
The Phenix T's jumped out to a 5-0 lead after 21/2 innings, keyed by a two-run single from Kristin Enfield to cap a three-run second inning. However, the Titans battled back to within one run, and nearly completed the comeback in the bottom of the fifth and final inning. Phenix pitcher Lisa Pearce was facing a bases-loaded, one-out situation when Tanner called a timeout and met his team in the middle of the infield.
"I tried to tell them a joke, but no one laughed because they've heard it so many times before," Tanner said. "We've played ball every day since Saturday. Mentally they were getting a little tired. I asked them what I gotta do to get them jump-started for one more inning."
Tanner then asked his players what it was they were doing when they built a 5-0 lead. When none of his players could respond, he told them it was because they stopped thinking after the third inning. Something clicked, because a strikeout and groundout later, Pearce had kept her team in the tournament for another night.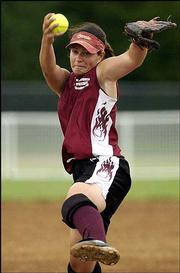 "I just wanted to strike them out," Pearce said. "I'd like to be playing Sunday to consider (the tournament) a success."
As for the two other Phenix 16-and-under teams, their dreams of fighting back through the losers bracket were washed away. The Phenix Riling lost, 6-5, to the Oklahoma City Invasion, and Phenix Fyler was knocked out by No Fear, from Olathe, 10-3.
Because of the rain delays, only 16 of the originally scheduled games for Friday were played. The rest have been bumped to today. But despite the weather delay, director Ed Kimminau still expects the tournament to conclude Sunday as originally planned.
For the Phenix T's, even though it came later in the day than expected. Tanner's team took extra satisfaction in eliminating another team from the national tournament.
"I told them if we win we're going to have a party, and if we lose we're going to have a party," Tanner said. "What they said at the end of the game was we're still here and they're going home, so send 'em back to Minnesota."
Copyright 2018 The Lawrence Journal-World. All rights reserved. This material may not be published, broadcast, rewritten or redistributed. We strive to uphold our values for every story published.