Olathe — Kansas University senior golfer Kevin Ward seemed vulnerable during the first two rounds of the Kansas Amateur Match Play Championship earlier this week.
Friday's third and quarterfinal rounds at Shadow Glen Golf Club were a different story.
Ward -- already a winner at the Kansas Golf Assn. Fourball Championship and the Missouri Amateur earlier this summer -- set aside the aggressiveness that he showed when he blew a four-hole lead late in Thursday's second round.
On Friday, he simply played textbook golf.
The result of his patience and precision was a berth in today's semifinal round. Ward tees off at 7:45 a.m. against former Jayhawk Tyler Shelton.
"I gave openings yesterday, and that was the problem," Ward said. "Today there were no openings given."
Ward played a nearly flawless third-round match in the morning, disposing of Steve Newman on the second playoff hole. Newman forced the playoff when he birdied No. 18 with an improbable 20-foot chip-in.
"He played flat-out good," Ward said. "I was surprised. He made a lot of putts, and he chipped in and did all that. If you're going to win, stuff like that's going to happen to you, but I was stronger than that."
Ward's eight-foot putt for par on the second extra hole propelled him into the quarterfinals against Bryan Norton. Ward birdied two of the first three holes and coasted into the semifinals with a 6 and 5 win.
"I just wanted to go out and play a smarter game," Ward said. "I played extremely smart today and didn't make too many mistakes. I didn't even play that good of golf. I just made three or four birdies and no bogeys. That's been my ticket all week."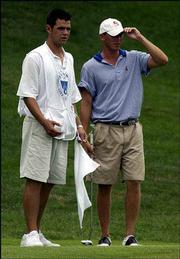 Shelton wasn't too fancy, but he was efficient, birdieing five holes in his third-round match before dropping three birdies in his 6 and 5 victory over former Jayhawk John Hess in the quarterfinals.
KU junior Pete Krsnich and Missouri junior Chris Mabry will meet at 7:30 a.m. in the other semifinal match, with the winners advancing to Sunday's championship.
Krsnich gutted out three playoff holes before finishing off David Dupy in the quarterfinals with a short par putt.
Mabry advanced to today's match by defeating KU sophomore Tyler Docking, 2 up. Beating a Jayhawk was special for Mabry, but it wasn't as personal as his third-round victory over top-seeded Jesse Schulte, 2 and 1.
"This means a lot to me," Mabry said of his third-round win. "He beat me four years ago at Mission Hills in the second round, so this is a little revenge, especially against a real good player."
Copyright 2018 The Lawrence Journal-World. All rights reserved. This material may not be published, broadcast, rewritten or redistributed. We strive to uphold our values for every story published.