On her first day as a college freshman at Southwestern University in Winfield, the Rev. Gayla Rapp attended an introductory religion class taught by a United Methodist pastor, Cecil Findley.
That class opened her eyes to "a Christianity that is thoughtful, that allows questions, that seeks the deeper things," Rapp recalled.
"The next day, I went to the registrar's office and changed my major (from speech and communications) to philosophy and religion. It was a life-changing moment to me."
After that, Rapp never looked back.
The 41-year-old graduated from college in 1985 and went on to earn a master's of divinity in 1991 from Drew Theological Seminary in Madison, N.J. She later became senior pastor of University United Methodist Church in Wichita, where she served in the pulpit for nine years.
Rapp began a new position July 1 as the United Methodist campus minister to Kansas University, appointed on behalf of all the United Methodist churches in Kansas.
In that full-time job, she will minister to the students, faculty, staff and administration of KU. Rapp's office is at First United Methodist Church, 946 Vt.
She succeeds the Rev. Phil Shull, who served as campus minister, as well as pastoring a United Methodist congregation in Linwood for about two years. Shull is serving as senior pastor at Rapp's previous congregation, University United Methodist Church in Wichita.
The job as campus minister at KU feels like the right place for her, Rapp said.
"I did youth ministry my first five years after seminary. My (Wichita) church had many university connections (to Wichita State University). It just seems like a natural progression to be here," she said.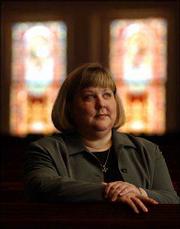 "It's not surprising to me that here I am as a campus minister, because one of the life-changing moments in my spiritual journey (Cecil Findley's introductory religion class) happened to me while I was in college."
Rapp has begun to make connections with the pastors of Lawrence's other two United Methodist congregations, as well as meeting with some of the KU students with whom she'll soon be working.
"I am just overwhelmed by the quality of the students I have met so far. They are bright, talented and gracious," Rapp said.
Some of her plans for her ministry at KU include launching a weekly e-mail devotional and newsletter, phone text messaging to stay in touch with students, a spring break mission trip, a Sunday evening fellowship group at First United Methodist Church and a noon Wednesday Bible study at the Kansas Union.
Rapp explained her hopes for her work at KU.
"I want to help students connect with a God who loves them, and I want them to experience the joy of Christian life in community. I would like my ministry to connect with students at a time (in their lives) that they feel free to ask questions and to embrace for themselves the Christ whose grace changes us," she said.
Rapp said she has always viewed her ministry as representing the "progressive edge of Christianity" while being Christ centered.
Position: United Methodist campus minister to Kansas University.Previous position: senior pastor, University United Methodist Church in Wichita, for nine years.Education: bachelor's of philosophy and religion, 1985, Southwestern University, Winfield; master's of divinity, 1991, Drew Theological Seminary, Madison, N.J.Family: parents, retired, living in Topeka; two older brothers; two nephews and one niece.
"The passion that drives my ministry is the grace and love that we experience in our life with Christ. From that flows a community that is inclusive, politically engaged and listens to and respects current scholarship," she said.
Interfaith dialogue has long had a special interest for Rapp.
"For me, Christ is the way, the truth and the life," she said, "but that does not mean that other faith traditions are without truth."
Copyright 2017 The Lawrence Journal-World. All rights reserved. This material may not be published, broadcast, rewritten or redistributed. We strive to uphold our values for every story published.