Call it the exodus.
Each year, July and August are peak times for the clergy to sneak in a few weeks of vacation, hightailing it to the beach, the big city or the countryside for a little R & R.
It's traditionally a good opportunity for a getaway, since school is out and many church members are traveling, attendance at worship services ebbs and there's a break in church programming (except vacation Bible school).
With no religious or secular holidays to observe, apart from the Fourth of July, this window of time offers everyone a bit of a breather -- and that goes for pastors, too.
"The church calendar follows, to a degree, the calendar of the community in which we live. In our case, it's the academic calendar of the university. Lots of people are out of town, traveling, working on projects, having out-of-town guests -- all the typical reasons (for being away from church)," said the Rev. Jonathon Jensen, pastor of Trinity Episcopal Church, 1011 Vt.
"A lot of things people do in the summer, they can't do during the school year. They take a family vacation that they've done for years, or summer camp of some type."
It's as good a time as any for pastors to enjoy some time off, as well.
"It's a Sabbath, in a sense. It's less difficult to get away at that point. (Though) even in the midst of my vacation, I came back and did a funeral," Jensen said.
July and August have typically been the time Rev. Peter Luckey circles on his calendar for vacation.
"It's just a nice time to be in my home and work around my house and the garden," said Luckey, senior pastor of Plymouth Congregational Church, 925 Vt.
"The other thing I like to do is take day trips around Kansas, (such as) walk in the Flint Hills and go birding. I get up early, take my binoculars and walk for six hours without seeing anybody. It's a wonderful complement to ministry, to be out in nature."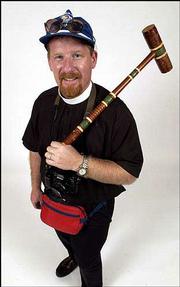 Playing hard
The Rev. Randy Beeman and his family usually take their vacations in July and the first week of August.
"The summer slows down. For me, I have children, and they're competing in baseball, and it's also a nice, warm time to be outside. I go then (on vacation) primarily because that's when the kids are out of school," said Beeman, senior pastor of First Christian Church, 1000 Ky.
"I don't call home. They (church staffers) know if there's an emergency they can reach me. But we have other ministers on staff, and our lay people really take care of everything. It is so easy to go on vacation at this church. They are really good at covering all the bases."
Beeman and his family (wife Linda and the couple's four children, ages 10 to 20) went on vacation in early July this year. The Beemans and another family from his church traveled to New York City and then to Virginia Beach, Va.
The group of 12 visited Time Square, Broadway, Coney Island, Fifth and Madison avenues and watched a fireworks display in Battery Park.
They also went to Ground Zero on the Fourth of July to witness the dedication of a huge, granite stone memorializing the victims of 9/11 at the World Trade Center.
Virginia Beach was a highlight, too.
"We chartered a boat and went deep-sea fishing 14 miles off shore. Everyone caught their limit. I enjoy the time with family, that's what I enjoy. Anything with family," Beeman said.
The Beemans also found time to go parasailing 1,200 feet above the ocean.
"That was on my top 50 list of things to do before I die. I'd never done it before," Beeman said.
He described how he feels when he comes back after taking a break from the pulpit such as this one.
"I'm refreshed mentally, emotionally and spiritually. Physically, I'm tired. We play hard when we go on vacation," Beeman said.
Return to job refreshed
Jensen of Trinity Episcopal didn't go anywhere on vacation, but he still used his time constructively.
"I took two weeks in June and two weeks in July. I worked on the house, I stripped the wallpaper out of the kitchen and repainted it, powerwashed and painted the deck, repainted the bathroom. But the best part of it was I got to spend every day with my wife, all day long," he said.
Jensen explained what he sees as the value of his summer vacations.
"Very simple: One is to let my body rest. The other thing is to let my mind disengage from thinking about church ministry for just a little bit, so I'll be refreshed to go back and look at things in a different way," he said.
When the Rev. Paul Gray and his wife, Kitsy, go on vacation -- typically in July -- the couple likes to travel to Colorado Springs, Colo.
"I like to drive in the mountains with the top down in my convertible. Two years ago, we took a whole day and drove from Colorado Springs to Breckenridge, mostly on gravel roads. It's a seven-hour drive, the way we went. It's fun and exhilarating," said Gray, senior pastor of Heartland Community Church, 619 Vt.
Last year, the Gray family and Paul's 83-year-old mother took a July trip to the Lake of the Ozarks.
"We rented a pontoon boat and spent a day on the lake with it, and we hiked. There's also a great jazz band that plays there, so we went to dinner one evening and danced to this jazz group. There might not be too many pastors that do that," Gray said.
Beeman explained the value of taking a summer vacation.
"It's an intense time of relationship building with the family. They get my full attention during that time, and they know they're No. 1," he said.
"It also teaches me that the church is bigger than me. It goes on whether I'm there or not."
Copyright 2018 The Lawrence Journal-World. All rights reserved. This material may not be published, broadcast, rewritten or redistributed. We strive to uphold our values for every story published.