Dominican Republic — Women give birth by candlelight. Doctors take notes using the glow of their cellular phones.
Hospitals in the Dominican Republic are struggling with an energy crisis that is leaving much of the Caribbean country without power for up to 20 hours a day.
Early Friday, in complete darkness at Our Lady of High Grace Hospital, a nurse held a flashlight and another a candle over a woman giving birth. The dim glow around the chubby newborn allowed the mother her first glimpse of the child with matted dark hair.
The hospital has two emergency generators, but one is broken and the other overheats after four hours of use. Forty minutes after the woman gave birth, the power returned.
"Doctors even have to tend to emergencies by candlelight," said Waldo Ariel Suero, president of the Dominican Medical College.
The government and electricity providers have been at odds over payments for years, but in recent weeks the dispute has worsened with power companies claiming the government owes them US$350 million.
The government, which buys energy from the electricity providers and controls distribution, denies the claims and says some of the companies owe it money.
Electricity is being supplied at less than half the demand of 1,700 megawatts during peak hours in the country of 8.8 million people.
Government officials have said there was no immediate solution.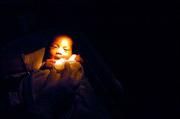 A labor dispute has exacerbated the situation in hospitals. Doctors demanding raises and better equipment returned to work full-time Friday after a week of only responding to emergencies.
President-elect Leonel Fernandez, who defeated President Hipolito Mejia in May elections, takes offices on Aug. 16, but he has yet to present a plan on how to fix the electricity problem.
Fernandez, who was president from 1996 to 2000, campaigned on promises to bring back the good times of the late 1990s, when the economy grew by 8 percent a year.
Now the country is going through its worst economic crisis in decades, with inflation near 30 percent and unemployment at 16 percent.
Copyright 2018 The Associated Press. All rights reserved. This material may not be published, broadcast, rewritten or redistributed. We strive to uphold our values for every story published.