Boston — After getting the go-ahead hit in the ninth inning Friday night, Alex Rodriguez thought back to April, when he went 1-for-17 in his first series at Fenway Park with the Yankees.
"It feels like it was five years ago," he said.
New York's early struggles are a distant memory, and so is Boston's April success. Even three homers by Kevin Millar couldn't stop the Yankees from beating the Red Sox yet again.
After Millar tied the score in the eighth inning with his third solo home run, Rodriguez put New York back ahead with his third hit of the game. The Yankees' 8-7 victory extended their lead to 91/2 games in an AL East race that increasingly appears to be over.
"I'm sure he wants to contribute, especially here," Derek Jeter said. "The first time around was kind of tough."
After losing six of seven games to the Red Sox in April, the Yankees have won four straight against their longtime rival, opening their largest margin since winning the division by 101/2 games in 2002. Boston has lost seven of 10.
"Every loss to me is huge," Red Sox manager Terry Francona said. "We're just trying so desperately to get on the right track."
New York, which acquired Rodriguez from Texas after a tentative trade between the Rangers and Red Sox fell through, overcame a 4-1, fifth-inning deficit against Curt Schilling. Boston had been 10-0 in Schilling's Fenway starts.
Keith Foulke (2-3) retired his first batter in the ninth before allowing two straight drives off the left-field wall -- a double by Gary Sheffield and the single by Rodriguez.
"I made a couple of pitches you shouldn't make in this ballpark," said Foulke, who has blown four of his last seven save chances. "You've got to take the wall out of play."
Mariano Rivera then closed it out with a perfect bottom half for his AL-best 35th save in 36 chances, his 23rd in a row.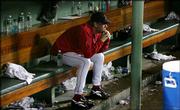 Millar homered in the fourth, sixth and eighth innings, the last one tying the score 7-all against Tom Gordon (3-3), who got the win.
"We were tenacious. We played with intensity," Schilling said. "If we play like we played tonight, every night for the rest of the season, we're going to go to the World Series."
White Sox 6, Tigers 4
Chicago -- After learning that Magglio Ordonez could miss the rest of the season because of an injured knee, Chicago won as Carlos Lee hit a two-run homer and drove in three runs, and Juan Uribe hit a tiebreaking solo homer. Esteban Loaiza (9-5) allowed four runs and seven hits in six innings to win for the first time in four starts since June 27. Shingu Takatsu pitched a 1-2-3 ninth for his eighth save in eight chances.
Twins 7, Orioles 3
Baltimore -- Corey Koskie homered and had a season-high four RBIs as Minnesota won its fifth straight. Jacque Jones also homered, and Torii Hunter had three hits for the Twins. Carlos Silva (9-7) allowed three runs and nine hits in six-plus innings to earn his first win in four starts since June 23. John Maine (0-1) gave up four runs, seven hits and three walks over 32/3 innings in his major league debut.
Blue Jays 7, Devil Rays 4
Toronto -- Frank Menechino had three hits, including a solo homer, and Toronto scored six unearned runs in the third helped by two errors by first baseman Aubrey Huff. Miguel Batista (9-6) allowed three runs and six hits in six innings to win for the seventh time in his last eight decisions at SkyDome. Rookie Jason Frasor got four outs for his 11th save. Mark Hendrickson (7-8) gave up seven runs and 11 hits in seven innings.
Rangers 8, Athletics 3
Oakland, Calif. -- Kevin Mench hit a three-run homer during Texas' sixth-inning rally, and the Rangers snapped Mark Mulder's 11-game winning streak. Kenny Rogers joined Mulder as the majors' only 13-game winners with his 18th straight victory at the Coliseum. Rogers (13-3), who allowed six hits and three runs in 52/3 innings, hasn't lost in 35 starts in Oakland since Aug. 7, 1994.
Angels 8, Mariners 2
Seattle -- Jose Guillen had a homer and five RBIs, leading the Angels over Seattle in a game in which both dugouts emptied after Anaheim's Vladimir Guerrero was hit by a pitch. Guillen put the Angels ahead 5-1 in the fifth with a three-run homer off Jamie Moyer (6-7), who lost his fifth consecutive decision. Bobby Madritsch hit Guerrero in the right wrist with a pitch in the seventh, and both benches and both bullpens emptied onto the field.
Copyright 2018 The Associated Press. All rights reserved. This material may not be published, broadcast, rewritten or redistributed. We strive to uphold our values for every story published.