Fans and participants at the American Fastpitch Assn. "B" Girls National Tournament finally caught a break from the weather on Thursday.
Unfortunately for the Phenix Rusk 14-and-under squad, their recent hot streak was cooled off as well.
After pummeling Big Lake, Minn., 12-1, Thursday morning, coach Jay Rusk's girls lost a heart-breaking 4-3 contest with the Kansas City Wild Things after the sun set and now will have to tread through the loser's bracket in the double-elimination tournament.
"We've been playing well all week, but it was a tough ballgame," Rusk said. "I think we played well enough to win that game. Like we always tell them, every time you win now, you send somebody home, so let's send a lot of people home and battle our way back to the championship."
Rusk certainly was not lying about his team's playing well enough to deserve a win.
The biggest turn came in the bottom of the fourth inning with the Wild Things at bat and trailing 2-0.
Phenix pitcher Callie Craig delivered a full-count pitch that appeared to be a strike, but it was called a ball, and it put runners on first and second with two outs.
The Wild Things followed with three consecutive RBI singles.
Though the Phenix fought back to tie the score, momentum was with their opponents.
"We can still come back," Phenix player Tracie Weege said. "And we probably will."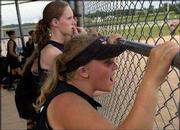 One area team that does not yet have to worry about coming back is the 14-and-under Tonganoxie Braves. Of all area teams in the tournament, Tonganoxie has had the best week, with a 5-1 mark.
The Braves are 3-0 in the double-elimination part of the tournament that started Wednesday.
After using timely hitting and solid defense to defeat both the Platte County (Mo.) Monarchs and the Amarillo (Texas) Lady Texans, coach Pat Albert sees no reason why his team can't keep rolling today.
"This is the way we like to play all the time," Albert said. "Our game is our defense. We try to play tough defense and give our pitcher every chance to win the game. We want them to hit the ball."
However, after the Braves beat up on Amarillo, 6-2, Albert did not take the time to preach fundamentals or nitpick his team's performance. Instead, he told the players to go home, get a good night's sleep and be ready to pick up right where they left off in the morning.
"Players perform better when they're comfortable," he said of playing close to home. "It's pretty nice when they can sleep in their own beds at night."
The Braves will face the Wild Things at 11:00 a.m. today at the Youth Sports Inc. fields.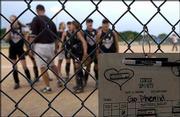 Copyright 2018 The Lawrence Journal-World. All rights reserved. This material may not be published, broadcast, rewritten or redistributed. We strive to uphold our values for every story published.