The 9-U Douglas County Amateur Baseball Assn.. third-place tournament game July 16 marked the fourth time the Pirates played and beat the Eudora Sharks, but this time was different.
"They were a much improved team from when we played them earlier this year," Pirates head coach Stan Skwarlo said.
After dropping two games to the Pirates in the regular season, and losing 12-5 to the Pirates in the first round of the DCABA postseason tournament, the Sharks kept the Pirates close but ended up losing,13-7.
"We played just well enough to lose," said Eudora coach Ron Shanks, who added that his team looked good and played quality baseball.
Morgan Thevarajoo was a strong offensive asset to the team's season and the game. Thevarajoo led with two runs in the final game against the Pirates.
Skwarlo said the Pirates' timely hitting and solid pitching propelled them to a victory and third place in the tournament.
Both Stan Skwarlo, the coach's son, and Jacob Bateman went three-for-four and scored three runs each.
Despite the loss, Shanks said he was pleased with his players' performances. He said, top to bottom, he saw his line-up progress throughout the season.
On the field, Kyle Shanks performed well at second and third base making great plays throughout the season. In the game Kyle played in the outfield and had some outstanding diving catches.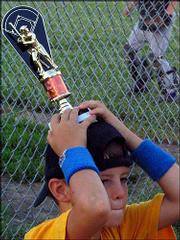 "We achieved our goal, which was to play better than we did at the beginning of the season," Ron Shanks said. He said the help of good competition within the league helped his players improve.
"The key is having guys who can pitch," coach Skwarlo said. He said the Pirates utilized six pitchers throughout the season, which aided in their success.
For the boys in 9-U league, this was the first year they pitched, although this season the DCABA 8-U league changed the rules to allow the players pitch.
The Sharks finished seventh in the regular season, but fourth in the tournament. The Pirates took second in the regular season.
Although the regular season is over for DCABA, some players are still playing in postseason tournament teams with select teams representing the league.
The two 9-U teams will go to Memphis, Tenn., for the National Baseball Congress tournament that will begin Friday.
Copyright 2018 The Lawrence Journal-World. All rights reserved. This material may not be published, broadcast, rewritten or redistributed. We strive to uphold our values for every story published.