Houston — Roger Clemens briefly was reminded of better times this season, when the Houston Astros were rolling and the postseason seemed a certainty.
The Rocket came through, once again, when the Astros really needed him to.
Clemens won his first game in three weeks, and Houston tied a season high with three homers in a 5-3 victory over the San Diego Padres on Sunday, stopping a four-game losing streak and giving Phil Garner his first win as the Astros' manager.
"Our guys jumped out there and gave me a lead, and that makes you want to hang on," Clemens said. "We scored some runs late, just like we used to when we were winning early this season."
Clemens (11-3), rocked for six runs in the first inning during Tuesday's All-Star game in Houston, had been 0-1 in three starts since beating Pittsburgh on June 24.
He retired 16 consecutive batters starting with the final out of the first and picked up his 321st win, moving three behind Nolan Ryan and Don Sutton, who share 12th place on the career list. Clemens allowed two runs and four hits in seven innings, striking out five to raise his career total to 4,099.
Clemens had insisted that he recovered quickly from his miserable outing in the All-Star game. Then he went out and proved it.
"I felt fine Tuesday ... there were a lot of distractions, but I had no excuses," Clemens said. "I don't concern myself with things like that. I was showcasing the city, and I would do it again. I have no regrets on that."
Cardinals 10, Reds 4
Cincinnati -- Mike Matheny drove in three runs, and Jeff Suppan won his third straight start. Edgar Renteria and Reggie Sanders hit solo homers for the Cardinals, who won for the 11th time in 13 games.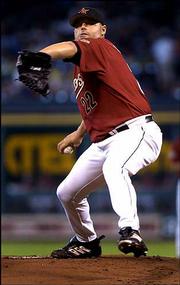 Mets 6, Phillies 1
New York -- Al Leiter pitched six shutout innings, and Mike Cameron and Vance Wilson hit back-to-back homers in the fifth off Brett Myers (5-7). Leiter (6-3) allowed four hits and struck out a season-high seven for his fifth win in six starts as the Mets salvaged a split of the four-game series.
Rockies 10, Giants 9
Denver -- Jeromy Burnitz and Preston Wilson each homered off Matt Herges (4-4) and Aaron Miles capped Colorado's four-run ninth inning with an RBI single. Colorado turned the tables on the Giants after a disheartening 7-5 loss to the Giants on Thursday in which closer Shawn Chacon gave up four runs in the ninth inning.
Pirates 4, Marlins 2
Pittsburgh -- Pinch-hitter Bobby Hill came through with a go-ahead homer leading off the eighth inning, and Pittsburgh won its 10th in a row at home. The home winning streak is Pittsburgh's longest since a 24-game run that lasted for six weeks late in the 1978 season.
Brewers 4, Cubs 2
Chicago -- Chris Capuano pitched six strong innings, Scott Podsednik had three hits, and Milwaukee took advantage of the Cubs' bullpen. Kerry Wood allowed one run and four hits in six innings, but Milwaukee went ahead with two runs in the seventh off Francis Beltran (2-2) and Kent Mercker.
Braves 16, Expos 5
Atlanta -- Eli Marrero hit a grand slam in the first inning, and Chipper Jones finished a double short of the cycle. The Braves moved into a tie with Philadelphia atop the NL East, winning their sixth straight series.
Dodgers 10, Diamondbacks 3
Phoenix -- Cesar Izturis drove in a career-best four runs, Adrian Beltre hit his 23rd homer to match his high, and Los Angeles completed a four-game sweep of Arizona. Jayson Werth had a career-high four hits to back Jose Lima.
Copyright 2018 The Associated Press. All rights reserved. This material may not be published, broadcast, rewritten or redistributed. We strive to uphold our values for every story published.