James Gunn, Kansas University's resident science fiction guru, couldn't suppress a wry grin as he recalled his older brother Richard.
"My brother always felt he was put on Earth to do good things," Gunn said. "He sometimes did too much for other people and not enough for himself, but that was who he was."
Richard W. Gunn, a physician who died in November 2002, left more than $388,000 to KU's department of English and School of Medicine, the KU Endowment Association announced last week. Richard Gunn was a KU graduate and practiced medicine for many years in Kansas City, Mo.
"He was one of the last doctors in Kansas City who made house calls," Gunn said. "He always said it was the best kind of medicine."
Richard Gunn was one of the youngest doctors -- if not the youngest -- to graduate with a medical degree from KU, Gunn said. He received his diploma just short of his 23rd birthday.
Varied interests
"He was very interested in topics outside of medicine, as well," Gunn said. "I remember he became especially intrigued by the Shakespeare controversy and whether or not the Earl of Oxford was actually the author behind some of those famous works."
Science fiction was more than just a blip on Richard's radar screen, too.
"We both began reading the same pulp magazines back in 1932," Gunn recalled. "We enjoyed debating about the future of science and medicine."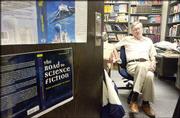 In 1991, his brother's curiosity about the dual nature of science and fiction led him to endow $50,000 for the J. Wayne and Elsie M. Gunn Center for the Study of Science Fiction, an institute founded and directed by James Gunn. The center was named for the brothers' parents.
"Richard took care of them in his home beginning in 1952," James said. "They lived with him and helped him in his practice. He was devoted to them, and when they died, I think a part of him went with them."
About $290,000 of Richard's recent gift was divided between an annual lectureship in English and the science fiction center.
Dorice Elliott, chair and associate professor of English, said the sizable donation would advance the study of science fiction at KU.
Gunn had already been thinking about it.
"My goal is to bring in some prominent science fiction writers and scholars to speak, maybe at a conference," he said. The science fiction center concluded its annual Campbell Conference, which recognizes outstanding writing in the genre, July 11.
Future of the genre
Gunn, who began writing science fiction in 1948, said he monitored public perception of the sometimes misunderstood genre.
"Because science fiction is a literature of change, the state of science fiction is always in flux," he said. "In certain ways science fiction is doing very well, both in film and television, and there are more science fiction books being published. It isn't uncommon to see one on the best-seller list."
But Gunn said he was concerned about dwindling opportunities to publish "midlist" science fiction books.
"Books either have to be possible best-sellers, or they have to attract a category audience with a fantasy or trilogy element," he said, noting the popularity of writing science fiction novels in a "movie-friendly" way.
"Midlist books, which do something new and therefore have to find a new audience, are difficult to get published. And that's too bad, because midlist books are usually what advance the genre," he said.
Gunn also said science fiction study had lost some of its subversive sheen through the years.
"I retired from teaching in 1993, but my classes did get somewhat smaller over the years," he said. "At first, science fiction attracted students because it was kind of underground or just not standard. But now there are so many choices for students."
Still, Gunn said, science fiction would always have a place in literary learning and beyond.
"Science fiction teaches students to expand their minds and to think in ways they're not used to," he said. "And maybe it makes them think about the problems in the world that science needs to address.
"I like to say, 'Let's save the world through science fiction.'"
Copyright 2018 The Lawrence Journal-World. All rights reserved. This material may not be published, broadcast, rewritten or redistributed. We strive to uphold our values for every story published.