Pep Solberg is a new type of Douglas County farmer. He grows grapes on a 20-acre tract about a mile south of Kansas Highway 10 between Lawrence and Eudora. But unlike many traditional farmers, Mother Nature isn't his biggest worry. He spends his time looking at the skies and wondering what is blowing in the wind.
At least two times this year the wind has carried a herbicide called 2,4-D, a potent weed killer popular for killing thistles and dandelions. But it also can kill crops such as Solberg's grapes.
Solberg said his grapes lost a year's worth of growth because the 2,4-D that was sprayed on someone else's property drifted onto his.
What's worse, Solberg said, is that he's worried some of his grape plants have been so badly damaged they won't survive the winter. At a cost of $5,000 an acre to replant grapes, a windy Kansas day could be very expensive.
"I definitely worry more about what's floating in the wind than I do anything else," he said. "You can accept Mother Nature and what she does to you, but when this happens, it just breaks your heart."
Statewide concern
Solberg isn't the only one worried.
Dale Lambley, a special assistant to the Kansas Secretary of Agriculture, said his office had been on a "crusade" during the past year to educate farmers, ranchers and homeowners who use the chemical.
Lambley said the effort was worth it because chemical drift could derail important efforts by farmers to diversify the state's agriculture economy.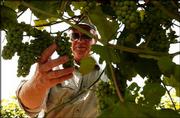 The weed killer also has damaged some of the state's emerging cotton crop. Lambley estimated 20,000 acres of the state's 150,000 acres of cotton suffered damage from spray drift during the past year. Pecan growers in southeastern Kansas also have reported problems with the spray. Estimates on how much monetary value the crops have lost aren't available, but Lambley is convinced the issue has the potential to cause farmers to turn away from the potentially lucrative crops.
"We want to promote these new types of crops," Lambley said. "They have the potential to be great economic crops, but we have to do a better job of learning how to live with them."
The Kansas Department of Agriculture documented two complaints of spray damage last year in Douglas County. This year there have been five cases reported, and agriculture officials suspect many home gardeners simply don't report the damage.
Lambley said Douglas County is an example of where many farmers are planting nontraditional crops -- everything from grapes to large scale fruit and vegetable gardens -- that are more susceptible to spray damage than traditional crops like corn or wheat.
Education effort
Greg Shipe, owner of Davenport Orchard Vineyard and Winery near Eudora, has dealt with damage from herbicides for the past eight years.
"But this year is the heaviest we have ever had," Shipe said.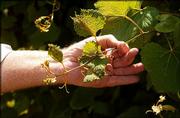 Bill Wood, agriculture agent with K-State Research and Extension-Douglas County, said the problem was relatively simple to understand. The herbicide 2,4-D becomes very susceptible to drift when the weather becomes hot and even the least bit windy. He said when the temperature reaches the mid-80s or above, the herbicide volatilizes, meaning it turns into a gas and rises into the air.
"There are cases where you could spray it in the morning when there is no wind and then it gets up to 85 or 90 degrees and it volatilizes and gets up in the wind," Wood said. "It could easily move a half mile, a mile or more and hurt somebody's grapes."
Other types of herbicides also can drift, Wood said, but 2,4-D generally is considered the most susceptible. It also is one of the most widely used herbicides in the country, largely because it is cheap. Many homeowners also may be using it without knowing because it is a common ingredient in several lawn care products like WeedOut and Weed and Feed, Wood said.
Grapes are among the most susceptible area crops, but 2,4-D also can hurt tomatoes, walnut trees, berry plants and many types of flowers, Wood said.
Unlike other herbicides, there is no special license or training needed for property owners to spray the chemical. There also are no laws prohibiting it from being sprayed during certain times of the year when drift is more likely.
That may change though. Lambley said the department may consider proposing legislation that would make the product a restricted-use chemical, which would require users to have a license or put other restrictions on its use.
"We haven't discounted the possibility of any of that," Lambley said.
Wood and others are hoping education rather than new laws will take care of the problem. The Extension office and area grape producers have formed a group that they hope will become a pilot project for other counties. It is called the "Good Neighbor Project," and it is an effort aimed at educating area farmers, ranchers and homeowners who use the chemical.
The group has applied for a $31,000 grant from the Environmental Protection Agency that would allow them to make signs that growers could place on their property alerting sprayers of sensitive crops. The money also would be used to fund seminars, voluntary training sessions and other outreach efforts to educate users of 2,4-D.
Suburban meets rural
Wood advises sprayers to apply the chemical during the fall or spring rather than the summer. The herbicide doesn't volatilize during cooler temperatures, he said, and it actually penetrates deeper into the root of the plant.
Getting people to change their decade-old spraying habits, though, may be difficult. That's in part because people use the chemical to kill thistles and dandelions, two weeds that become more obvious in the summer.
Thistles are a purple-headed noxious weed. Landowners are responsible for killing thistles before they spread or else face fines that can be as high as $1,500. County officials are responsible for notifying landowners if they need to get rid of the weeds. The notices are typically sent in the summer.
"A lot of times people get the noxious weed notice and they panic and then spray for them at absolutely the worst time," Shipe said.
Mike Perkins, operations manager for the Douglas County Public Works Department, said that wasn't the intent of the county's noxious weed program. He said the department provided people with information about the chemical's potential to drift. It also suggests other chemicals to use that are less likely to drift. But Perkins said 2,4-D remained a popular choice because it is one of the cheapest herbicides.
"I think there does need to be a big education effort on everyone's part," Perkins said. "We definitely want to protect the growers but at the same time take care of the weed problem."
Wood fears the problem has the potential to become much larger in Douglas County. That's because the number of farmers who are looking to grow nontraditional, herbicide-sensitive crops is increasing. Also, the number of people who are moving to rural areas to live on five- or 10-acre "plots" is on the rise.
"You have people who own a five-acre lawn and want it to look like the picture they see on a magazine cover," Wood said. "They spray a lot of chemicals and that can be a problem if they don't do it right."
Finding the culprit can be difficult. The Kansas Department of Agriculture will send an official to investigate crop damage but pinpointing which neighbor improperly sprayed the chemical is tough.
David Wulfkuhle, of rural Lawrence, is a frequent user of 2,4-D. He has a state license to spray fields for a living. He said it wasn't professionally-licensed applicators who were creating the problems.
"It probably is the guy who has 15 or 20 acres and just doesn't really know what they're doing," Wulfkuhle said. "But as much as I hate to say it, there are some old-time farmers who just don't care either. They have the philosophy that they were here first and they're going to keep doing it the way they've always done it."
At his vineyard, Shipe said attitudes needed to change or else the county could lose out on an opportunity to revive its agriculture economy. He said he's too nervous to plant any new grape plants, and he's put on hold plans to build a large tasting room and retail area on his property.
"As a farmer you accept what the weather does to you," Shipe said. "There is no other way around that, but I can't accept this."
Copyright 2018 The Lawrence Journal-World. All rights reserved. This material may not be published, broadcast, rewritten or redistributed. We strive to uphold our values for every story published.