Photographer: Scott McClurg
Camera: Nikon D1X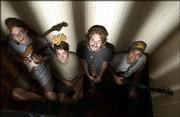 Lens: 17mm
Aperture: f5.6
Shutter: 1/80 second
ISO: 400
Off-camera flash used
I tried shooting Lawrence's Big Metal Rooster all over the band's house: in the basement, sprawled out on the living room floor, on some stairs -- pretty much anywhere because nothing seemed to be working right.
Eventually I found stairs with a slat railing at the top. Instantly I had an idea to line up the members and shoot a flash through the railing, with the members in the grooves of light, separated by the shadows of the rails. I could do this by placing my flash on a cord to get it away from the camera. (So I was juggling my camera in one hand and the flash in the other.)
This separated the musicians and cast just enough light on them.
Fortunately, the members were patient through my series of failed ideas and then willing to line up one last time for the picture that finally worked.
By being able to preview my photos after shooting them, I knew what worked and what didn't. Without the digital camera, I would have had to guess and probably wouldn't have ended up with this image so easily.
Plus the guys wanted to see what the heck I was talking about while shooting their picture.
-- "Behind the Lens" is an ongoing weekly series that features an image selected by the Journal-World photo staff that previously ran in the newspaper or online. Wondering how a certain picture was created? Nominate it for "Behind the Lens" by contacting chief photographer Mike Yoder at 832-7141 or myoder@ljworld.com.
Copyright 2018 The Lawrence Journal-World. All rights reserved. This material may not be published, broadcast, rewritten or redistributed. We strive to uphold our values for every story published.