Not so long ago, a Kansas legislator wouldn't have dreamed of turning down more money for the schools in his district.
Today, it happens all the time.
"For someone like me, it's hard to believe this is happening," said Glee Smith, president of the Kansas Senate from 1965 to 1973 and a member of the Senate Education Committee from 1957 to 1973.
"Back then, you always looked out for your schools," said Smith, who moved to Lawrence from Larned in 1991.
Those lawmakers who didn't were swiftly booted out of office. Voters, the lawmakers learned, cared about their schools.
Many still care, but it's becoming apparent that for an ever-increasing number of voters, schools are not as revered as they once were.
"More and more, we're seeing a disconnect," said Don Haider-Markel, an associate professor of political science at Kansas University. "We've got schools saying they need more money, and then we've got people saying they're all for better schools, they just don't think they should have to pay more to get more."
Voters, he said, would rather hear candidates' promise not to raise taxes than sort through their plans for overhauling the state's troubled school finance formula.
Kansans not convinced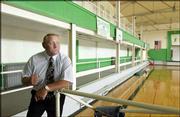 "People in my area aren't telling me to raise their taxes," said Rep. Ralph Ostmeyer, R-Grinnell.
Ostmeyer, a conservative, is running for the 40th District Senate seat formerly held by Sen. Stan Clark, R-Oakley, who died May 29 in a car accident. The district includes all or parts of 34 school districts spread across 15 counties in the state's northwest corner.
Though he spent 14 years on the Grinnell school board, Ostmeyer said he would not vote to raise taxes for schools.
"If that makes me anti-education, so be it," he said. "I do what I think is right."
During the 2004 legislative session, school boards and superintendents in northwest Kansas encouraged patrons to lobby Ostmeyer for an increase in funding.
"I got very few letters," Ostmeyer said. "In fact, when you take out the ones from teachers and school board members, there weren't hardly any."
He insisted most Kansans were not convinced their schools were in dire straits.
"I don't know that I'd disagree with that," said Craig Grant, a former lobbyist for the state teachers union who's now communications director for Senate Minority Leader Anthony Hensley.
"I think it's clear that a lot of people think there's plenty of fat left in school budgets," said Grant, who lives in Lawrence.
"Now, I don't think it's that way in some of the urban areas like Johnson County, Topeka or Lawrence, and I see pockets of enlightenment opening up in Wichita," he said. "But when you get outside the bigger cities -- until something dramatic happens, like closing a school, folks still don't think (school funding) is a problem."
Other worries
In recent weeks, Martin Hawver, who publishes a newsletter for Statehouse watchers, has interviewed more than 100 legislative candidates.
"The ones who've gone door to door say people are telling them there's a problem and they want it fixed, but they don't think they should pay any more in taxes."
Few voters, Hawver said, have taken the time to wade through the complexities of the state's school finance formula or the lawsuit challenging the formula's constitutionality.
"It's an issue that's sort of like a tough piece of meat," Hawver said. "The more you chew on it, the tougher it gets."
It's also becoming apparent, he said, that voter concerns over health care and health insurance outweigh the concern for schools.
Legislators who supported funding increases for schools aren't sure what to do.
"I find it very troubling that people aren't demanding straight answers to the question at hand: If we aren't willing to spend the money, are we prepared to live with the consequences?" said Rep. Bill Kassebaum, R-Burdick.
Economic decline
Kassebaum argued that without more funding, rural schools are sure to suffer more than their urban counterparts.
Districts with fewer than 500 students, he warned, will be prime targets for consolidation, which will accelerate economic decline in the towns that lose their schools.
"What I keep hearing is taxes are a burden," Kassebaum said. "And they are, but what I try to tell people is that we ought to be looking at them as an investment, too, because if we want people to come back here to live, we're going to have to have good schools. That's fundamental."
As yet, school district campaigns aimed at rallying voters have been low-key.
"Kansas schools have done a great job educating kids, and I think that's hurt us," said Oberlin Schools Supt. Kelly Glodt. "If we're scrounging around down in the bottom of the barrel, it might open people's eyes."
Copyright 2017 The Lawrence Journal-World. All rights reserved. This material may not be published, broadcast, rewritten or redistributed. We strive to uphold our values for every story published.