Baltimore — No rookie pitcher in the American League has performed better this season than Daniel Cabrera, Baltimore's most consistent starter since being summoned from Double-A in mid-May.
Cabrera allowed three hits over seven shutout innings, and Rafael Palmeiro hit his 541st career home run Saturday, leading the Orioles past Kansas City, 7-2.
Starting in place of an injured Sidney Ponson, Cabrera (6-3) didn't allow a runner past first base in beating Kansas City for the second time in 11 days.
The 6-foot-7 rookie right-hander, who struck out five and walked one, leads AL rookies in wins, ERA (2.90), opponents' batting average (.220) and innings pitched (772/3).
His numbers are impressive enough, but it's his demeanor that has grabbed the attention of Orioles manager Lee Mazzilli.
"That's the most impressive thing," Mazzilli said. "I think he's just a very confident young man."
Cabrera was pitching for the Bowie Baysox before the Orioles called him up as an emergency starter for a doubleheader May 13 against the Chicago White Sox. He threw six shutout innings, which turned out to be a sign of things to come.
"His fastball rises," Royals catcher John Buck said. "The pitch I struck out on, I swore it was a fastball down the middle, but by the time I swung it was up around my shoulders."
His success may come as a shock to the rest of the league, but Cabrera has taken it all in stride.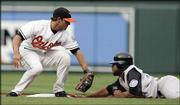 "It's no surprise because I work hard every day," he said. "When I give up a base hit I just try to be relaxed, throw strikes and get a double play."
After throwing a double-play grounder to end the seventh, the rookie departed after 92 pitches. The Orioles are trying not to overwork the 23-year-old, who never has pitched more than 126 innings as a professional.
"It was a good time to take him out," Mazzilli said.
B.J. Ryan worked a perfect eighth, and Jorge Julio gave up Tony Graffanino's sacrifice fly and Mike Sweeney's solo homer in the ninth. The two runs enabled the Royals to avoid their fourth shutout loss in five games.
"There was definitely a feeling in the dugout we didn't want to take that again," Buck said. "If that's the way we've got to be the rest of the season, spoil a shutout or spoil a series for a team that needs to have a good series, that's what we're going to do."
Kansas City manager Tony Pena added: "At least nobody walked around with their head down. I saw a lot of energy in that dugout."
Matt Stairs had two hits for the Royals, who have lost 14 of 16 while being outscored 110-39. Their lone wins during that span were against Baltimore.
Luis Lopez had a season-high three hits, scored twice and drove in a run for the Orioles, who snapped a three-game skid to avoid falling 12 games under .500 for the first time this season.
The Orioles had scored only four runs in their last three games, but Palmeiro jump-started Baltimore's slumbering offense in the second inning against Mike Wood (1-2).
After Javy Lopez hit a leadoff single, Palmeiro hit a drive over the right-field wall for his 13th homer. It was his 1,033rd extra-base hit, moving him past Tris Speaker into sole possession of 10th place on the career list.
Baltimore went up 5-0 in the fifth, scoring three runs with two outs. Luis Lopez singled, took second on a walk and scored on a single by David Newhan, who has hit safely in 21 of 22 games since joining the Orioles on June 18.
Miguel Tejada then chased Wood with a two-run double that boosted his team-leading RBI total to 73 -- a career record for the first half.
Luis Lopez and Brian Roberts hit RBI doubles in the eighth against Scott Sullivan.
¢
Notes: Palmeiro has 5,106 total bases, the 13th-highest total in baseball history. ... Kansas City DH Ken Harvey got the day off. He's hitless in his last 16 at-bats. ... The Royals are 9-27 in day games, including 3-14 on the road.
Copyright 2018 The Associated Press. All rights reserved. This material may not be published, broadcast, rewritten or redistributed. We strive to uphold our values for every story published.