Oskaloosa — "Speedy" the box turtle lived up to his name Saturday.
The turtle earned its owner, 7-year-old Macy Scott, first place in the second-grade division of the turtle races, which took place on the east side of the courthouse square in this rustic Jefferson County town.
"He just goes," Macy later said of her turtle as she sat underneath a shade tree with her mother, Holly Scott, Perry. Macy picked Speedy to compete over two other turtles she kept in a cardboard box.
The turtle races were one of several children's games that took place during Oskaloosa's annual Old Settlers Reunion celebration. The celebration began Thursday and concludes today. Other games Saturday included gunny sack races, egg and water balloon tosses and a jumping contest for small frogs. Carnival rides also have been running each night.
But the celebration isn't just for children. Street dances and wine tasting have been among the highlights for adults. There's also been an auction in which bottles of wine were sold along with buffalo meat, lobsters, ribs, concert tickets and even a free teeth bleaching treatment from a dentist.
Old Settlers Reunion usually draws about 6,000 people to Oskaloosa, and there was no reason to believe this year would be any different, said Rynette Reiling, event chairwoman.
"A lot of old friends come to town, and there are several family and class reunions that take place each year for this," Reiling said. "Everything has gone wonderfully, and you couldn't ask for any better weather."
Mike Newell's relatives from throughout the area usually gather in Oskaloosa for the annual celebration. Among them is an uncle, Marc Rolin, from Lakewood, Calif., who usually returns to spend the summer in Kansas, Newell said.
"I get to see a lot of old classmates and other people I used to know in school," Newell said.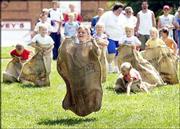 Today's events start with a 9 a.m. community church service at the Old Jefferson Town bandstand. At 2 p.m. in Oskaloosa Middle School's multipurpose room, music, comedy and poetry performances will take place. Featured will be James Reynolds and Valerie Wildman. Reynolds, who plays the character Abe Carver on the television soap opera "Days of Our Lives," often returns to his hometown for Old Settlers Reunion.
Copyright 2017 The Lawrence Journal-World. All rights reserved. This material may not be published, broadcast, rewritten or redistributed. We strive to uphold our values for every story published.