Greg Cromer wanted to build townhomes.
The site of the former Southwinds Rehabilitation & Care Center, 1800 W. 27th St., had been empty for a time, and Cromer, president of American Real Estate & Investments, thought 26 condos would be a great replacement.
"If you look at it from (the profit) perspective, the highest and best use is apartments and townhomes," Cromer said last week.
But residents of the mostly single-family homes surrounding the site let Cromer know they didn't like the idea.
"The nursing home, that's about as light a use as you can get, not much traffic besides ambulances," said David Geyer, president of the Lawrence Association of Neighborhoods. "Then you put it up to the maximum density of an apartment building, then people are looking at going from light traffic to a lot of traffic, which is a legitimate concern."
Cromer knew he would have had a fight on his hands if he tried to proceed with the condo project. So he backtracked and came up with a 17-lot single-family home project instead. The neighbors acquiesced, and Cromer says the project still will be "economically viable."
"It's worked out, so far," he said. "Had it not been profitable ... we would have moved on."
The story illustrates a key challenge facing proponents of "smart growth" in Lawrence: Everybody likes the idea of so-called infill development, unless it's in their back yard.
Avoiding sprawl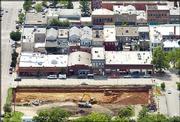 Infill development is the idea that you can reduce sprawl and save tax dollars by encouraging development within the existing city limits, instead of putting new developments at the ever-expanding edge of the city.
"It's the opposite of sprawl, basically," City Commissioner Boog Highberger said. "It allows us to take advantage of existing infrastructure. It adds more urban density, making it easier to provide services like public transportation."
And building where water and sewer services are already in place can be a benefit to developers.
"We don't have to incur additional expense bringing utilities and other infrastructure to the property," Cromer said. "For all intents and purposes, it's ready to be developed, in that respect."
The past year, though, has seen infill development projects run into neighborhood opposition on a regular basis, including:
l Bo Harris' plan for five-story luxury condominiums at Eighth and New Hampshire streets. The building was reduced to 72 feet tall from 78 feet after complaints from neighbors who said the plan would harm nearby historic properties. Construction on the project has begun.
l Harold Shepard's proposal for a 25-unit apartment building at Seventh and Wisconsin streets; nearby residents say the project would bring too much traffic to their neighborhood, though the site's zoning allows the use. That project is scheduled to go before the Lawrence City Commission on Tuesday.
l Cromer's altered townhome project.
Such controversies make difficult decisions for Lawrence city commissioners, who must balance their belief in smart growth with loyalties to neighborhoods.
"It's certainly a dilemma," Highberger said.
'Means something more'
The reason for the conflicts, Planning Director Linda Finger said, is that residents often are accustomed to their neighborhoods as they exist.
"Many times, infill development means something much more personal to a neighbor than to a developer: It means a loss of green space, trees, buffering," Finger said. "This change is much more personally felt because it is something that affects the daily lives of neighbors and residents in an area."
Geyer agreed.
"A lot of the neighbors want the property developed," he said. "They're just not sure the development will fit into the character of the neighborhood."
The key to reducing problems, observers on all sides seem to agree, is communication. City officials and neighbors praised Harris, in particular, for working with neighbors before taking his project to City Hall.
"I think the key is getting to know the neighbors," Cromer said. "You really have to get out and go talk to them."
"That goes a long way towards defusing the problems," Geyer said, "just walking up and going to the neighbors and saying, 'This is what we want to do.'"
Finger said proposed changes to city codes would help ensure that developer-neighborhood communication happened early in the development process.
Until those changes are made, Highberger suggested, the future of smart growth relies on the goodwill of neighborhoods and developers.
"I think we keep doing what we're doing. We make sure there's neighborhood involvement in the project when an infill development is proposed," he said. "I don't think there's a magic bullet to make infill development easy all of a sudden."
Copyright 2018 The Lawrence Journal-World. All rights reserved. This material may not be published, broadcast, rewritten or redistributed. We strive to uphold our values for every story published.