When Coco Hinojos drives his pearl-white Cadillac CTS sedan around Lawrence, the car gets plenty of attention.
Especially since he slapped on a $2,000 set of custom, chrome-plated wheels -- known to auto enthusiasts as rims -- and special, low-profile tires.
"When I added them rims, I had 80-year-old white people coming up to me and saying it looks nice. Old, old people come up to it and go, 'Wow,'" says Hinojos, 28.
"That makes me feel good. And the women like it, too."
Hinojos, a student at Kansas University, is one of many Lawrence-area residents who have invested hundreds -- even thousands -- of dollars into tricking out their cars, trucks and sport-utility vehicles with sets of custom wheels and tires.
Thanks to countless rap songs and music videos that are virtual odes to shiny, outsized wheels, as well as television programs such as MTV's "Cribs" and "Pimp My Ride," more everyday people are seeking to transform their own vehicles by acquiring the kind of flashy, over-the-top rims and tires seen on rides driven by superstar athletes, celebrities and rappers.
"They're becoming more popular. It seems like it's a big deal," says Clint Offutt, store manager at Pro Sound, 500 E. 23rd St.
The business offers a wide variety of custom-order wheels and tires, in addition to tinting car windows and installing high-end stereos.
"Everybody wants them real bad," Offutt says. "Americans love their cars, and this makes them look better."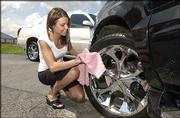 Rob Wendland, owner of Wendland Performance Motorsports Superstore, 2601 Iowa, says sales of custom wheels and tires at his store have increased about 25 percent each month since November.
It's not just young people with a little extra money to burn who are doing the buying. The trend -- while appealing overwhelmingly to men -- cuts across cultures and income levels.
"We're getting middle-aged people with middle-class incomes buying wheels and fixing up their rides. It's everybody," Wendland says.
Size matters
3.23: National custom wheel and tire sales in billions of dollars in 200225: Percent increase in custom wheel and tire sales since November at Wendland Performance18-34: Average age of custom wheel buyers, most of whom are also males28: Biggest custom wheel (in inches) available on the market
The popularity of fancy, ever-larger rims and low-profile (narrow sidewall) tires among Lawrence-area residents is just a reflection of a booming business nationwide.
Combined sales of custom wheels and tires were $3.23 billion in 2002, and the average custom wheel buyer is an 18 to 34-year-old male, according to a study by the Specialty Equipment Market Assn.
"The trend is huge, thankfully for us," says Boyd Coddington, Jr., vice president of marketing for Weld Wheel Industries in Kansas City, Mo., the second-largest wheel manufacturer in the United States.
"Truck and SUV sales have pushed it dramatically with the bigger wheels. The larger portion is the little tuner cars (Japanese imports like Honda, Toyota and Mitsubishi), the street and performance market."
Hundreds of companies, such as Forte, American Racing and Enkei, offer an enormous variety of wheels that range from simple and stylish to aggressive and gangsterish.
Consumers can spend anywhere from $500 to upward of $10,000 to $12,000 -- that's rap-star territory -- to outfit their rides with the latest "dubs" (slang for custom wheels).
Many enthusiasts are upgrading the stock, 15- or 16-inch-diameter wheels their cars came with and moving up to 17s, 18s or 20s.
People who drive trucks or SUVs that can handle larger wheels and tires are commonly choosing 22s or 24s -- sizes that were almost unheard of a few years ago.
For those who want something even more eye popping, a few manufacturers offer wheels that are 26 or 28 inches in diameter. They look like they belong on a Boeing 747.
With custom wheels and tires, it seems, size matters.
"There's people out there who are doing 28s. It's a merit badge -- 'Hey, mine's bigger than yours.' In my opinion, 24s are as big as they (should) get, feasibly," Coddington says.
Expresses personality
Zarif Haque likes big, custom wheels and tires so much that he purchased shiny sets of them for two of his vehicles.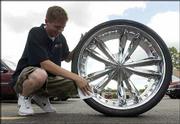 He has 22-inch, chrome Forte wheels and Nitto tires on his 2002 pearl-white Cadillac Escalade EXT. He spent between $2,700 and $3,000 for the package.
And he has a set of 22-inch Ice Metal 887s and Nitto tires on his 2002 black Cadillac Escalade SUV. That set him back about $3,500.
Why would he -- or anyone -- spend that kind of money on a ride?
"Mainly because it gives a flair and a uniqueness to the vehicle. There are Escalades all over, but this adds a personal touch," says Haque, 24, co-owner of Custom Highline, 2441 W. Sixth St.
The business is an auto-locating service specializing in luxury imports.
"They're very popular right now. You can have two identical cars, but one will look thousands of dollars more valuable just because of the wheels," Haque says.
It's all about making a vehicle stand out, serving as both a status symbol and an expression of the owner's personality.
"Without those wheels," he says, motioning toward the hulking, white Caddy, "it's a dime-a-dozen Escalade, basically."
---
What's hot and where to get it
There are hundreds of wheel and tire manufacturers offering a virtually limitless number of styles and combinations that consumers can choose among to customize their vehicles.
It's hard to know where to begin.
Wendland Performance Motorsports Superstore, 2601 Iowa, has computer software that lets customers call up a picture of their exact vehicle model and color, then match it up with hundreds of styles of custom wheels.
The program even tells customers the right size of wheel diameter that would work best for their particular car, truck or sport-utility vehicle.
Popular wheels in Lawrence these days, according to automotive aftermarket stores in town, include those made by Weld, American Eagle, American Racing, Enkei, Motegi and Forte.
Everyone aspires to own Dubs, a flashy, premium wheel favored by rap stars and pro athletes. But they're super costly.
"Spinners" -- wheels popularized by NBA basketball star Latrell Sprewell, in which the hubs keep spinning after the vehicle has stopped moving -- have panned out, local stores say.
Copyright 2018 The Lawrence Journal-World. All rights reserved. This material may not be published, broadcast, rewritten or redistributed. We strive to uphold our values for every story published.