Joliet, Ill. — Kevin Harvick is in the right place at the perfect time.
He's dropped to 10th place in the NASCAR Nextel Cup standings after just one top-10 finish in his last seven races. With only nine races to go until the championship chase starts, Harvick would love to get on a roll to solidify his spot.
"We're kind of on the bubble point there," he said. "We've got to make sure we really stay on top of our game and do everything that we can do to keep that cushion behind us as much as we can. It'll be tough. There's a lot of good cars, and somebody could go on a hot streak here.
"Hopefully, it's us."
Fortunately for him, the NASCAR series has rolled into the Chicagoland Speedway for the Tropicana 400 today. Harvick has dominated the race, winning the first two and running second last year until he ran out of gas. His two victories here make up half his career total.
He also holds the track record for most laps led overall (188) as well as laps led in a race (113 out of 267). He's the only driver to lead in all three races.
"It's just one of those places where we unloaded and everything went good, and we've had a lot of confidence ever since," Harvick said. "Any place that we can go right now where we have a good history is good for us."
Harvick qualified 17th, running a lap at 184.729 mph Friday. That's more than two mph slower than pole winner Jeff Gordon, but don't read too much into that. No one who started in the top five has won at Chicagoland yet, and Harvick won the 2002 race after starting 32nd.
"I've always struggled a little bit in qualifying, for whatever reason, but we always race really good," he said, shrugging off Friday's results.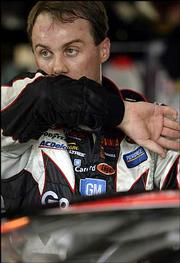 Harvick traditionally has started slow, picking up momentum when the temperatures rise, and this year has been more of the same. Though he finished third at Bristol and Talladega, he tailed off with a 25th-place finish at Richmond and a 23rd at Charlotte.
He dropped to 10th in the points standing after finishing 20th at Pocono, and has stayed there since. He's 450 points behind points leader Jimmie Johnson, a gap so big he would have had no shot at the Nextel Cup title in years past.
But things are different this year. NASCAR is resetting the field with 10 races to go, and all drivers in the top 10 -- and any others within 400 points of the leader -- will run for the championship. Instead of drivers building a big, early lead and running away with the title, momentum likely will determine this year's champion.
Copyright 2018 The Associated Press. All rights reserved. This material may not be published, broadcast, rewritten or redistributed. We strive to uphold our values for every story published.