Salina — Before repairing a doll or stuffed animal, Jean Hamilton gives it the washing machine test.
If it survives the spin cycle, she knows it'll survive the hands of a small child.
Once a doll makes it through the washing machine, "a note is pinned on it so we know what needs to be done," Hamilton said.
What needs to be done may be anything from restuffing the innards of a teddy bear to sewing new clothes on a ragged Raggedy Ann. Each month, Hamilton and eight other women of the Sunflower Doll Collectors Club repair dozens of used, abused and discarded dolls and stuffed animals in an attempt to restore them close to their original condition.
The dolls then are taken to Salina's Emergency Aid-Food Bank where they are given to mostly preschool-age children of families with needs. Some of the children never have had a nice toy of their own, Hamilton said, so she is happy the dolls are going where they will be loved and appreciated.
Since the Sunflower Doll Collectors Club was formed in May 1995, more than 966 dolls and stuffed animals have been donated to children at the food bank. Club members do most of the repair work on their own and attend monthly meetings to conduct club business, learn more about dolls and doll collecting and exchange restoration ideas.
Most of the dolls are gathered from garage sales, auctions, store sales and close-outs and donations, Hamilton said.
"A lot of people have heard about us by now and what we do, so when they clean out their toy boxes, they give things to us," she said. "One of our members goes to auctions, and sometimes when the auctioneer doesn't sell all the toys, he just gives them to her. People from my church are always giving dolls to me."
Most of them are in need of some kind of repair. A lot of them are dirty and have no clothes and need new hair.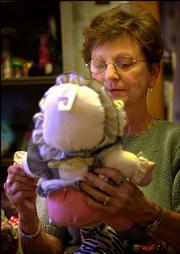 Hamilton has been a doll collector all her life and has a personal collection of 2,300 vintage and antique dolls that line practically every shelf, table and corner of her home. Doll collecting was an obsession inherited from her grandmother, and after learning to sew, Hamilton said, she began doing doll restoration.
The Sunflower Doll Collectors Club was formed by Salinan Lois McClaskey, who based it on a similar doll club in Nebraska. The club meets the first Monday of each month, and each member pays $10 in yearly dues. The money is used to buy supplies to repair dolls and books about doll collecting to donate to the Salina Public Library. The club also takes day trips to view doll collections in cities such as Marysville and Minneapolis, Kan.
Although members primarily work on their own, periodic workdays are scheduled so the women can work on larger projects together, said Neola O'Neal, the club president.
"It's fun to see how the dolls turn out when you get them fixed up," O'Neal said. "While we don't get to see the children who get our dolls, we know they must be pleased. That's why we keep doing this."
Every other month or so, club members bring a load of dolls and stuffed animals to the food bank, where they are quickly distributed, said Kathy Jackson, Emergency Aid-Food Bank administrator.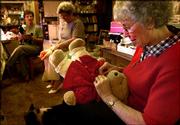 Dolls and stuffed animals are placed in the food bank waiting room for children to play with while their parents are waiting for assistance. If they become attached to a particular doll or animal, they can take it home, Jackson said.
"They really get excited when we give them a doll -- the look on their faces is just a precious moment," she said.
Copyright 2018 The Lawrence Journal-World. All rights reserved. This material may not be published, broadcast, rewritten or redistributed. We strive to uphold our values for every story published.