Caught between declining enrollment, rising costs and a fourth year without an increase in state aid, rural school officials across Kansas are starting to talk about closing schools and merging districts.
Some already have made the decision to call it quits.
"We're looking at it," said Hoxie Schools Supt. Jim McDaniel. "Everybody's looking at it."
The discussions do not bode well for small towns in western Kansas, a region already reeling from long-depressed farm prices, drought and persistent out-migration.
"Out here, the economy is not booming. We're completely dependent on agriculture -- and we're in a drought," said Kelly Glodt, superintendent in Oberlin. "Unfortunately, there aren't a lot of jobs to hold people here."
Between 1990 and 2000, 50 Kansas counties lost population. In 12 counties, the losses exceeded 10 percent.
Last year, more than half the state's 301 school districts lost students. Ten districts suffered losses of 10 percent or more.
"We've gone from about 280 students in 1997 to 207 in 2004," said Dean Schultz, superintendent in Mankato. "We're hoping to level out at some point in the future, but when you're graduating 25 seniors and you're only bringing in eight to 10 kindergartners, you don't have to be a mathematician to know it's going to be a while."
Mankato, too, is weighing consolidation. "It's being thrown around quite a bit," Schultz said.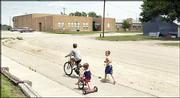 And last month, the Nes Tre La Go school board agreed to disband the Utica-based district after the 2004-05 school year.
"We have no money, and our enrollment is way down," said Nes Tre La Go's part-time superintendent and part-time elementary school principal Emery Hart. "We can't keep our doors open."
Though it encompasses 232 square miles in parts of Ness, Trego, Lane and Gove counties, Nes Tre La Go had only 33 students last year, making it the state's smallest school district. Its five high school students already attend schools outside the district.
'We'll really dry up'
"The economy has really put a halt to things around here," Hart said. "The baby boom days are gone. There aren't any jobs for young people to come back to. And the families that used to have seven or eight kids -- today, they have two."
Closing the district's lone elementary school will be a crippling blow to Utica, population 223.
"We'll really dry up after it's gone," said Mayor Doug Hagans. "But what do you do? The handwriting is on the wall."
In the past three years, three Kansas school districts have closed their doors:
l Moreland merged with Hill City in 2002.
l Herndon merged with Atwood in 2003.
l Bazine merged with Ransom, effective July 1.
"We're averaging about one (consolidation) a year," said Dale Dennis, deputy commissioner at the Kansas Department of Education.
The Education Department does not keep track of how many districts are talking about consolidation.
"But it's being discussed," Dennis said. "It's out there."
Nothing new
Though it always has been controversial, consolidation is not new. In 1945, Kansas had almost 8,000 school districts, most centered on a one-room schoolhouse. By 1960, there were 2,600.
In 1963, legislators forced a second round of consolidation in an effort to reduce inefficiency and enhance equity. By 1984, Kansas had 304 school districts.
In 1999, legislators commissioned a study on school-district efficiency. Released in 2001, the report recommended a series of mergers that would have reduced the number of districts to 255.
The report's recommendations were quickly shelved, leaving the underlying issues unresolved.
Last year, a coalition of schools superintendents introduced a plan for converting the state's then-302 school districts into 40 regional education districts over five or 10 years.
"It wasn't very well-received," said Kenneth Kennedy, who helped craft the plan. "Legislators were hesitant to tackle it, and small districts didn't like it."
Inefficient, inequitable

Still, Kennedy said, it's "crazy" for the state to have so many school districts.
"Look at Ness County," he said. "You have three districts (including Utica) in a county with less than 600 kids. And look at what's going on here in Pratt. We have two school districts, Pratt and Skyline schools (USD 438), with attendance centers a mile apart from each other. Now, neither school is full, but we've got buses running down the same road, and half their kids come from Pratt."
Last year, the Skyline school district had 461 students; Pratt had 1,208.
"This is going on all across the state," Kennedy said. "It doesn't make a bit of sense. It's inefficient, it's inequitable, but you're not going to get anybody to change it."
Last year, 156 of the state's 302 schools districts had enrollments of fewer than 600 students; 34 had fewer than 200.
For comparison, Lawrence High School and Free State High School each have about 1,200 students. The district's junior high schools each have between 500 and 700 students.
Bullock ruling
Kennedy said he welcomed Shawnee County District Judge Terry Bullock's recent ruling declaring the state's school finance formula inadequate and unconstitutional.
"Judge Bullock's got it figured out. He's right on," Kennedy said. "He's the guy who can fix this thing."
The Kansas Supreme Court is scheduled to hear the state Board of Education's appeal of the Bullock decision on Aug. 30. A decision is expected by year's end.
In the meantime, rural superintendents say their schools remain trapped between forces they cannot control.
"Our general fund budget is $3.1 million," said Glodt, of Oberlin. "Our insurance costs have gone up $100,000 a year in each of the last two years, but our state aid has been flat for four years. On top of that, we've lost about 200 kids over the past 10 years."
Since Jan. 1, he and his board have reduced the district's general-fund spending by $700,000.
"We've reduced all our classified staff -- that's custodial, cooks, bus drivers -- by one-third. We used to have six cooks, now we have four," he said. "We've cut teachers, counselors and librarians. We cut our elementary school art program."
'Hurting the kids'
As yet, the cuts have not affected the district's core curriculum. But they soon will, Glodt said.
"We're at the bare-bones level now. If there's another round of cuts, it'll be devastating," he said. "That's when you'll see things like music and vo-ag get dropped, and that'll be a sad day because we have a lot of great kids who deserve those classes."
The Cedar Vale school district won't field a golf or track team next year.
"We're doing everything we can to tighten our belts," said Cedar Vale Supt. Buddy Hooper. "We've cut our funding for athletics, and we're going after teachers who are less experienced because, frankly, they don't cost as much."
Hooper said he was not opposed to consolidation. But he's in no hurry to stir the controversy that would come with proposing it, either.
"Instead of starving us to death, I wish the state would come up with a law that says when a district's enrollment reaches a certain level, say 200, 150 or 100 students, it has to come up with some kind of consolidation plan," he said. "Without something like that, small towns will fight it all the way to the end. That's understandable. I'm sure we'd fight it, too. But you know what? It's hurting the kids."
Copyright 2018 The Lawrence Journal-World. All rights reserved. This material may not be published, broadcast, rewritten or redistributed. We strive to uphold our values for every story published.