When explorer Stephen Long passed through the plains, including portions of what is now Kansas, on his journey west in 1819 and 1820, he described what he saw as the "Great American Desert."
He couldn't have been more wrong.
For here on the prairie, a sea of grass flowed from deep inside Texas, north through Kansas and beyond the Canadian border.
Tall grasses up to seven feet high -- big bluestem, little bluestem, Indian grass, switchgrass -- whispered to the People of the South Wind, the Kansa, as well as the Pawnee and the Osage.
Perhaps the future could be heard, the low bass rumble of wagons and squatters, trappers and explorers, soldiers and citizens from another nation, coming west on the "unsettled" frontier. But to those already here, the tall grass prairie was home.
"Things were almost idyllic for the American Indian (in Kansas in the early 1800s)," said Randy Thies, an archaeologist for the Kansas State Historical Society.
If present-day Lawrence residents were to visit this area in 1800, they would be struck by the landscape, said Dan Wildcat, professor of American Indian Studies at Haskell Indian Nations University.
"When we are in Lawrence, Kansas today, we have to recognize -- and you get some flavor of this even when you see the very early pictures like of Mt. Oread -- that's a prairie hill," Wildcat said. "You don't see any trees up there."
Today the grasslands of most of eastern Kansas have been cultivated or plowed under to make way for development, cities, manufacturing and highways.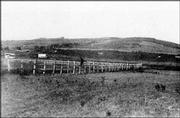 Lawrence consists of a landscape "of man-made arboretums," Wildcat said.
The planting of deciduous trees and manipulation of the landscape have made it difficult to envision the past, where as soon as people left on the journey west, "felt like they were entering that great American Desert because they were very quickly into essentially a vast grassland ecosystem," Wildcat said.
The Wakarusa River and the Kansas River, then as now, provided "nice watersheds. There were trees along those riverbanks, but I think in between you really had a grassland," Wildcat said.
To appreciate the landscape of 1800 today, Wildcat said, "We have to drive south and west of Topeka about 10, 20 miles before we begin to get that sense again."
Copyright 2018 The Lawrence Journal-World. All rights reserved. This material may not be published, broadcast, rewritten or redistributed. We strive to uphold our values for every story published.