Toronto — Kelvim Escobar enjoyed the run support more than beating his former team.
Bengie Molina hit a grand slam and Escobar had nine strikeouts, leading the Anaheim Angels over the Toronto Blue Jays 11-2 on Saturday.
Escobar entered the game having received just 3.5 runs of support per start, fourth fewest among American League starters with at least 10 starts.
"It was great. There were some guys that were more happy than me because they know it's been tough," Escobar said. "When the game was over the guys were pumped up, they were like 'Kelvim, we got 11 runs for you."'
Escobar (5-5) allowed two runs on five hits and two walks in 5 1/3 innings. He signed a three-year deal last winter after spending his first seven seasons with Toronto.
"I couldn't sleep last night. I was thinking about the game," Escobar said. "I guarantee, you can ask anybody, when you face your former team and get a win, it feels good."
Tim Salmon notched his first hit against a left-hander this season by doubling off Ted Lilly in the fifth -- ending a brutal 0-for-40 stretch.
"We were going to get him the ball," Anaheim manager Mike Scioscia joked.
Salmon admitted the slump was weighing on him.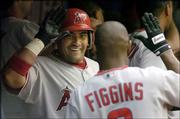 "It was one of those weird, crazy things that happen in this game," Salmon said.
Lilly retired the first two batters in the seventh, but the next nine reached. After Lilly gave up a triple to Chone Figgins and walked a batter, Kerry Ligtenberg relieved and allowed all six batters he faced to reach.
Vladimir Guerrero and Jose Guillen hit RBI singles in the inning, and Ligtenberg walked Jeff DaVanon with the bases loaded before Molina hit his second career slam, giving Anaheim a nine-run lead.
Toronto's Josh Phelps hit an RBI double in the first, but the Angels scored four runs in the fifth on David Eckstein's RBI single and Figgins' three-run double.
Yankees 6, Devil Rays 3
New York-- Derek Jeter's three-run double snapped a seventh-inning tie and Alex Rodriguez homered into the left-field upper deck, helping the New York Yankees beat the Tampa Bay Devil Rays on Saturday.
Jon Lieber (7-5) gave the Yankees their best start in more than two weeks, pitching seven solid innings to win his second consecutive outing.
Tom Gordon allowed a run in the eighth, but Mariano Rivera needed just five pitches to get three outs for his AL-leading 32nd save in 33 chances in front of 54,680 on Old-timers' Day at Yankee Stadium.
Dewon Brazelton (2-2) took the loss for the Devil Rays, who lost for the ninth time in their last 10 games at Yankee Stadium and fell to 4-7 in July after going 20-6 in June. It's only the second series they've lost in their past 15.
Red Sox 14, Rangers 6
Boston -- Manny Ramirez hit two of Boston's five home runs and the Red Sox used a season-high 21 hits to rout the Rangers for their fifth straight victory. Nomar Garciaparra, Mark Bellhorn and Jason Varitek also homered for the Red Sox, who roughed up Kenny Rogers, the league leader in wins. Derek Lowe (7-8) started off rough, allowing six runs in the second inning -- including Hank Blalock's grand slam. But the Red Sox scored five runs off Rogers (12-3) in the bottom of the second to counter.
White Sox 3, Mariners 2
Chicago -- Mark Buehrle pitched eight effective innings and Paul Konerko homered to lead the White Sox. The Mariners have lost a season-high eight straight. The losing streak is Seattle's longest since September 1992, when it lost a club-record 14 in a row.
Athletics 16, Indians 7
Cleveland -- Pinch-hitter Erubiel Durazo's grand slam helped Mark Mulder win his 10th straight decision for Oakland. Mulder (12-2) was sharp early, then faltered and gave up six runs over 6 2/3 innings. He still tied San Francisco's Jason Schmidt for the longest winning streak in the majors this year. The All-Star left-hander has not lost in 13 starts since a 5-1 setback April 28 in New York.
Tigers 4, Twins 2
Minneapolis -- Dmitri Young hit a tiebreaking solo homer in the sixth inning and Nate Robertson pitched effectively into the seventh to lead the Tigers to victory.
Ivan Rodriguez, Omar Infante and Marcus Thames also hit solo shots as the Tigers won their 41st game, only two short of their season total for 2003.
Copyright 2018 The Associated Press. All rights reserved. This material may not be published, broadcast, rewritten or redistributed. We strive to uphold our values for every story published.