Orlando, Fla. — Shaquille O'Neal would be happy to be traded to the Miami Heat.
That word came Saturday from O'Neal's agent, Perry Rogers, who told the South Florida Sun-Sentinel that O'Neal has given his blessing to a deal that would send him to Miami.
"We've said that we would agree to a trade," Rogers said in a story posted Saturday night on the newspaper's Web site. "I think that's going to happen. I'd be very surprised if it didn't happen."
The deal, expected to include Lamar Odom, Caron Butler and Brian Grant going to Los Angeles, cannot be completed until Wednesday when a two-week leaguewide moratorium on trades and free agent signings expires.
"It's very serious. I think it's very close to getting done," said Grant's agent, Mark Bartelstein.
Greeted by reporters as he was leaving a gym near his Orlando mansion, O'Neal said he had not yet met with Heat president Pat Riley and declined to comment on a possible trade.
"I can't say anything about that today," said O'Neal, flashing a big smile.
But ESPN and the Sun-Sentinel reported Saturday that O'Neal joined his representatives for a three-hour meeting that included Riley and Heat general manager Randy Pfund.
O'Neal's contract runs for two more seasons with a combined salary of almost $59 million, and he was angered earlier this season when the Lakers refused to offer him an extension.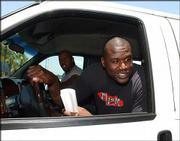 Rogers said the Heat had not discussed a new contract with O'Neal.
"No extension was agreed upon. That was never a condition for Shaquille," Rogers said. "He wanted to go to an environment that was a team environment. We feel confident that that's what Pat Riley and (owner) Micky Arison have created as a culture. This is the type of place that Shaquille would love to finish his career."
In Los Angeles, the formal announcement of Rudy Tomjanovich's hiring as the Lakers' new coach was partially overshadowed by the O'Neal trade talk and Kobe Bryant's free agency. Bryant will be free to sign with any NBA team beginning Wednesday.
Copyright 2018 The Associated Press. All rights reserved. This material may not be published, broadcast, rewritten or redistributed. We strive to uphold our values for every story published.