Beirut, Lebanon — A Marine corporal missing from his unit in Iraq for more than two weeks was safely with U.S. officials here, but his appearance at the American Embassy compound Thursday did little to dispel the mystery surrounding a bizarre disappearance.
Cpl. Wassef Ali Hassoun, who has been variously listed as absent without authorization, captured and held hostage under threat of beheading, met with U.S. officials and was taken to the embassy , U.S. officials said.
Hassoun's relatives in Utah said they spoke to the Marine and that he was being transferred to a U.S. military base in Germany.
Pentagon officials said Hassoun was not under detention but confirmed that the Naval Criminal Investigative Service was conducting what an official described as a noncriminal probe.
"The investigation is ongoing, and we don't know how he got there or what went on between the time that he was reported missing from his unit until he got into Lebanon," said Army Brig. Gen. David Rodriguez at the Pentagon.
A defense official in Washington said Hassoun called the defense attache at the U.S. Embassy and asked him to meet him at a coffee shop in Beirut. But when the attache showed up, Hassoun was not there. Hassoun called again, and was picked up three hours later at the shop and taken to the embassy, arriving there about 6 p.m. local time Thursday (10 a.m. CDT).
U.S. officials could offer no new details on how Hassoun spent the 18 days during which he disappeared from his unit near Fallujah and reappeared 500 miles away in a neighborhood in Tripoli where many of his relatives reside.
While military officials shed no new light on Hassoun's disappearance, several Marines in Iraq said Hassoun was distraught after witnessing the death of a gunner who was hit at point blank range with a rocket-propelled grenade or other large round.
"Seeing something like that would upset anyone," said one Marine based near Fallujah. Hassoun was posted near Fallujah when he became what the Marines described as AWOL.
Defense officials in Washington avoided saying Thursday that Hassoun had deserted his unit. They refused to comment on speculation that his capture and threatened slaying was a hoax. They also declined comment on reports that Hassoun is being transferred to a military base in Germany for questioning.
However, one White House official involved in counterterrorism, asked if Hassoun was a deserter, said that "not interested in serving is a better way to put it."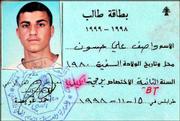 Copyright 2018 The Lawrence Journal-World. All rights reserved. This material may not be published, broadcast, rewritten or redistributed. We strive to uphold our values for every story published.