A key casting decision relating to the movie industry was revealed last week -- and it didn't involve an actor.
After an intensive two-year search, Dan Glickman was announced as the new chairman of the Motion Picture Association of America.
Glickman, a former Democratic congressman from Kansas and agriculture secretary during the Clinton years, succeeds the venerable Jack Valenti, who's served at the post since 1966.
Born and raised in Wichita, the 59-year-old Glickman has been a lifelong fan of film despite being known more as a Washington insider than a cinematic luminary.
"Movies are kind of the face of America," he says. "When you go around the world it doesn't matter what kind of society you go to, almost invariably they know America because of movies and television."
Glickman will resign as head of the Institute of Politics at Harvard University's John F. Kennedy School of Government and take over the MPAA in September.
Q: So you're an agriculture guy from Kansas. How did you end up with this job?
A: The truth is, they knew how much I like popcorn. Without popcorn, what would the movies be like? ... Actually, my son (Jonathan) is a film producer, and my wife has been very active in the arts for years. I was on the House Judiciary Committee for years where I did a lot of work in copyright issues. It's an area that has always interested me as well. And you know what? The agriculture and entertainment industry are not exactly the same thing, but they're both very large export industries. They face very similar battles on the world trade front. There are a lot of parallels there.
Q: Have you detected any resentment from the Hollywood community about a Kansan running a coastal industry?
A: The stereotype of these movie moguls is no longer true. These companies are all complicated businesses. They have television, theme parks, consumer electronics, sports teams. Most of the people who are in these businesses come from various parts of the country and have done a lot of different things.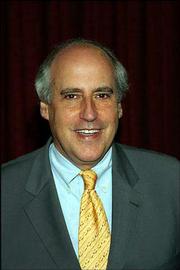 Q: When you take over the MPAA in September, what are going to be some of your first decisions?
A: I've got a steep learning curve here. I know surface-wise some of the issues, but I've got to get up to speed on that. It's also a rather large organization. They've got a couple hundred employees split between Washington, where I will be, and Los Angeles, where they do a lot of their piracy enforcement work. There's a lot of international things to learn about as well, so I'm not making any decisions right now.
Q: How would you characterize the job that Jack Valenti did?
A: He had this job for 38 years, which is longer than I've been married. He's a giant, actually, in terms of what he's done. Remember, he was an assistant to Lyndon Johnson. He built this organization and has been the most successful in promoting movies around the world. It's going to be a tough act to follow.
Q: Has he given you any advice?
A: Yes. And he will continue to give me advice. The big thing he told me was to be myself. Don't try to be somebody I'm not.
Q: Part of the criticism about the MPAA is that its guidelines aren't consistent from film to film. How will you address this?
A: I think the ratings system has largely been a success. It may need to be refined. I know there's been this controversy about "Fahrenheit 9/11," what the rating for that was, and this whole issue about sex and violence. My own belief is that we want to keep a ratings system. Whether this one needs to be modified or not I reserve judgment on.
Jon Niccum talks with Dan Glickman, 07.04
Q: Can you name some of your favorite movies?
A: I tell people jokingly, "Anything my son produces is my favorite movie." But I must have seen "The Godfather -- "1" and "2" -- a hundred times. I thought they were extremely well done and an important set of movies. I like a collage of movies. I loved "Animal House" because it reminded me of my fraternity in college. I liked the movie "Trading Places" with Eddie Murphy. I liked "Schindler's List." I liked "E.T." I liked "Chariots of Fire." I like almost anything Jack Nicholson is in.
Q: So what is your favorite movie that your son has been involved with?
A: He did "Grosse Pointe Blank." I thought that was a very good movie. And I liked the two "Rush Hour" movies with Jackie Chan and Chris Tucker.
Q: Lately, the Lawrence community has received a lot of attention because of filmmakers like Kevin Willmott and Patty Jenkins. Do you think this area can become a significant force in the movie industry?
A: There's been enormous growth in the independent film movement. There's great opportunities out there. So the answer would be: yes. Usually, you'd need one or two people who are able to build a reputation ... The problem with Lawrence becoming a center is that so many of these movies have enormous budgets. It's unlikely that there's going to be a movie there that's going to be a $200 million movie. On the other hand, even "Fahrenheit 9/11" cost nothing. I think there is a great yearning for diversity in movies. There's no reason our part of the country couldn't take a lead in that.
Copyright 2017 The Lawrence Journal-World. All rights reserved. This material may not be published, broadcast, rewritten or redistributed. We strive to uphold our values for every story published.