New York — Will Ferrell's title character in "Anchorman: The Legend of Ron Burgundy" is faced with a serious female colleague for the first time. Diversity is the reason, he's told. But he thinks diversity is the name of an old wooden ship from the Civil War.
A San Diego anchorman in the '70s, Burgundy is the latest in a line of Hollywood anchormen dating back to Ted Baxter of "The Mary Tyler Moore Show" (1970-77) who by turns are pompous, vain, vacuous, and living by the slogan: Sincerity -- once you can fake that, the world is yours.
Since Baxter (the name of Burgundy's dog, by the way) we've seen Jim Dial of "Murphy Brown," Bill McNeal in "NewsRadio" and three cartoon favorites: Kent Brockman of "The Simpsons," Tom Tucker of "The Family Guy" and Morbo the alien in "Futurama."
"Saturday Night Live" has long lampooned anchors on its "Weekend Update." And "The Daily Show" has won a Peabody for its nightly sendup of newscasts.
The comic, unflattering characterization of anchormen recurs for several reasons, according to pop-culture observers and media mavens:
l They're authority figures.
"Kind of like dads in sitcoms," laughed Jill Geisler, the first woman in the United States to become the news director of a major-market network affiliate.
"It's why very seldom principals of schools or deans of universities are presented in a good way," said Syracuse University's Robert Thompson, citing Dean Wormer in "Animal House" as a classic example.
l Journalists rate lower than even lawyers in surveys of the public's esteem.
Interestingly, however, a survey by the Pew Research Center for the People and the Press shows consumers regularly turn to local news more than their local paper, network news, or any other source. In "Anchorman," the bumbling Burgundy is a viewer favorite.
l People are generally more cynical.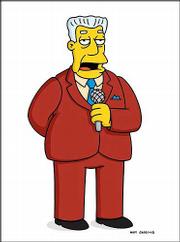 "It is harder today to do a serious, sincere story of an anchorperson than it is to do a comedy. Could you imagine trying to pull off 'Lou Grant' today, for example, without people laughing in your face?" said Thompson, who runs Syracuse's Center for the Study of Popular Television.
"The 'journalist against the world, out to do the right thing, fighting the right fight' seems so naive to so many people that it ends up sounding square."
The last earnest attempt, the NBC series "Deadline" starring Oliver Platt, was quickly canceled after its 2000 debut.
Dave Tolchinsky, an associate professor of radio-TV-film at Northwestern University, thinks viewers are often wondering about the sincerity of the anchor's emotions on camera.
"The movie 'Broadcast News' made a big deal out of the fact that the William Hurt character should 'pretend' to cry," he recalled. "Now I think most people assume that anchorpeople are faking it -- faking the emotion, faking the chatter and lively banter ... "
He noted that Jim Carrey's "Bruce Almighty" echoes "Broadcast News" but with a slightly different spin: Ultimately, it's Bruce's refreshing honesty that sets him apart from the anchors.
And citing Albert Brooks' memorable flop-sweat scene in "Broadcast News" when he tries to anchor, Tolchinsky added: "He fails as an anchorperson, but like Bruce in 'Bruce Almighty,' succeeds as a human being."
One of Tolchinsky's colleagues at Northwestern, Chuck Kleinhans, suggested that women escape the same Hollywood rap as anchormen because it's generally assumed they had to work harder than a man to achieve the same level of success. Thus Christina Applegate's character in "Anchorman" is ambitious and capable.
As unvarying as the depictions of the men have been, you might think they're based on truth.
People in TV news admit they've known a Ron Burgundy, but they maintain that such types are anomalies who quickly disappear.
Ferrell, the film's co-screenwriter who consulted with at least five local anchormen across the country for his role, agreed.
"If anything, what we discovered was actually the opposite of what we depicted in the movie," he told The Associated Press. "These guys ... were very educated, very smart guys who really took pride in what they did."
But there are a few who conform to the stereotype, as Phil Bremen, a telecommunications professor at Ball State University, can attest.
He worked in the '70s at a station where the producer liked to let the anchor lend his own special flair to the teases right before a commercial break to entice viewers to stay tuned.
"Instead of scripting a tease, the producer would ask the anchor to rough out a few words himself," Bremen recalled. "Showing the anchor where he needed to do this was a page that was blank except for the simple instruction, 'Tease more news.'
"Sure enough, one night the anchor breezed right through that page on the air. In his most authoritative tones, he told the viewers: 'Tease more news.' Then, barely missing a beat after he realized what he had done, he authoritatively added, 'We'll have that story in a moment.'"
Copyright 2018 The Associated Press. All rights reserved. This material may not be published, broadcast, rewritten or redistributed. We strive to uphold our values for every story published.