Melvern — Randy Long gives his dog a bear hug.
"This one is named Geddy -- for Geddy Lee of Rush," he says of the fluffy, burly Akita. "I sometimes forget people's names, but never dogs' names."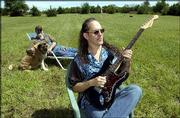 Geddy is not the only connection between rock music and pooches around Long's place.
This weekend, he will launch Dog Stock 2004, a two-day benefit for his Akita Rescue Farm. Nineteen area bands will perform on his spacious property (about 20 miles southwest of Ottawa), with all proceeds going to help the animals.
"The main reason we do this is to raise awareness, maybe find some volunteers and to adopt a dog or two out," he says.
Long has been involved with the Akita Adoption and Rescue Foundation for nine years. During that stretch he has adopted out over 400 dogs. Currently, he houses 70 of the stately beasts at the farm. Most are in large, individual pens under shady trees. As Long leads a tour, he rattles off the names and a detailed background of each beast.
"They are more responsibility than your average dog," he admits. "But their level of intelligence seems a little bit more like our level of intelligence. If you're tuned into the vibe, they're the most incredible companions there are."
Long first dabbled with the idea of Dog Stock last year. While the concept was met with approval from the community, not everything cooperated with the inaugural gathering.
"We did a trial run with a one-day event," he recalls. "But our timing was about as bad as it could be. The event was on May 10. That was when Osage County was on the weather channel every single day with tornado warnings.
"Even though the weather really did play havoc with the crowd, the people who were here had a great time. We adopted a lot of dogs as a result; we got a volunteer as a result. I took a financial bath, but hey, that's life."
Jeff Scheetz BandBeggars, Rogues & Thieves (2004)
Scheetz rock
"Randy and his wife basically gave everything they have to the dogs," says guitarist Jeff Scheetz. "That's just cool. It's one of those things we all WANT to do, but when you see somebody doing it, you go, 'Wow, I want to help out.'"
The Kansas City musician performed at last year's Dog Stock and again will bring his blues-rock skills to the event. Although 70 mph winds kept the crowds down last year, the Akitas seemed to appreciate Scheetz's riffs.
"You couldn't hear them barking when we were playing, but when we stopped, you could really hear them," he jokes.
Scheetz's quartet, which just got off the road opening separate shows for Jeff Healey and ELO, will headline Saturday night's concert.
"I'm thrilled to death that we've got some of the bands that we've got," Long asserts. "The fact that they're willing to commit their time and their talents free of charge and for the good of the dogs -- you can't argue with that."
Dog Stock 2004 schedule
Music starts at 5:30 p.m. today and 9:30 a.m. Saturday. Tickets are $15 in advance or $20 at the gate. Call (785) 746-5592.
TODAY
Wrench
Tantalus
Hijack
Brody Buster Band
Keely Zoo
Dennis Laffoon's Powerglide
SATURDAY
Planet Rojo
Tastes Like Chicken
DS Project
Wizard
Smack Daniel
Gas Lights
Rockhound
Cliff Drive
Statutory Rhythm
Dave Patmore
Elvendrums
Jeff Scheetz Band
Eudora
He describes the bill as heavy on local and regional talent.
"We have everything from classic rock and roots to folk and blues," Long says. "There's new music, like Eudora -- really popular with the young folks. And Elvendrums plays the renaissance festivals all the time on renaissance instruments. They call themselves 'power folk.' Then there's (blues harmonica player) Brody Buster -- now here's a talented kid."
Long and Scheetz became acquainted in the early '90s when the guitarist started getting his hair cut at Long's wife's hair salon in Kansas City.
"He liked going there because he knew she wouldn't cut it all off," Long says, laughing. "From there we just developed a really cool friendship."
That relationship became a professional one last October when Scheetz asked Long to consider getting back involved with the music industry after a decade away from it to manage his band. Although Long's full-time job is with Akita Rescue, he does take breaks to join Scheetz on the road. Considering that the six-stringer has a large following in Europe, the travel can be substantial. In fact, the Jeff Scheetz Band will tour Switzerland in September.
Interestingly, the guitarist doesn't actually own an Akita.
"I have two totally unrelated dogs," Scheetz explains. "I have a German shepherd mix and a collie mix. They were both rescue dogs that nobody else wanted. So I have a soft spot in my heart for these dogs."
Lucky dogs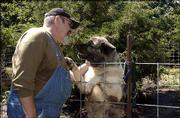 Long became enamored with the Japanese hunting breed nine years ago when he took in an Akita from a rescue organization in Kansas City as a companion for his husky.
"I fell totally in love with the puppy," he says. "I also was fascinated by what these folks were doing rescuing these dogs. We had a nice comfortable home in Brookside, but we wound up heading out to a little farm and fostering these dogs."
Long harbors Akitas from around the country, whether they are full-bred or mixes. Sadly, the majority have suffered some form of abuse.
"I'll raise my arm or a stick when I meet a new dog just to see how they react, and almost always they react (as if they have been beaten in the past) -- even when they come from a supposedly good home," he says. "And the excuses you hear: 'We got new carpet and the dog doesn't match the color of the carpet.'
"This disposable, Bic-lighter mentality that we've got," he trails off. "To me, when you take on a pet, it's a surrogate child."
The feed bill for the animals runs in the neighborhood of $400 a week. Fortunately, he's found some area businesses that help with the chore. Guy and Mae's Tavern, the renowned rib shack in nearby Williamsburg, supplies fat trimmings. Long uses this to cook up a "jambalaya-type stew" for the dogs that includes carrots, rice, premium kibble and even some Tabasco.
Fun facts about Akitas
Music starts at 5:30 p.m. today and 9:30 a.m. Saturday. Tickets are $15 in advance or $20 at the gate. Call (785) 746-5592.
Helen Keller is said to have brought the first Akitas into the United States.
The powerfully built Akita was originally developed to hunt bears in Japan. The Japanese now use Akitas as guard dogs and police dogs.
In July 1931, Japan designated the Akita breed as a national monument and as one of Japan's national treasures.
In Japan, Akitas are affectionately regarded as loyal companions and pets, protectors of the home and symbols of good health. When a child is born, the proud family will usually receive a small statue of an Akita, signifying health, happiness and a long life. If a person is ill, friends will send a small statue of an Akita to express their wish for a speedy recovery.
The Akita Club of America was founded in 1956.
Akitas enjoy carrying things in their mouth. They may take you by the wrist to lead you to the cookie cupboard or elsewhere. This is not an act of aggression.
Akitas like to take charge, a trait inherited from their wolf ancestry.
Fun facts sources: www.akc.org/breeds/recbreeds/akita.cfm and www.akita rescue.com/facts.htm
To adopt an Akita in Kansas, visit www.wwwebservice.net/akitaadopt/
Long hopes more businesses such as this would help out the cause but the proximity of the farm makes that difficult.
"It's harder to get volunteers when you're out here this far," he says. "It's harder to get good vets that will actually help out. But you have to do what you can do, because you can't set something like this up right in the middle of town unless you've got a lot more money than I do."
More than music
Dog Stock will be on Long's 81-acre farm, and he is making sure the event has a festival atmosphere.
In addition to importing a 24-by-16 stage, sound system and light show for the acts, he is also setting up numerous vendors. (Lawrence's Jayhawk Catering will provide the beer and liquor.)
Comedy will also factor into the schedule. Stanford's regular Scott Steehn (who has written for "South Park" and "King of the Hill") will emcee the event, and he is bringing eight or 10 comedians with him to perform in between the bands' sets.
In addition, there are plans for a bonfire today and a fireworks display on Saturday.
"It's such a perfect place," adds Scheetz as he surveys the setting. "Especially if you like dogs."
Copyright 2018 The Lawrence Journal-World. All rights reserved. This material may not be published, broadcast, rewritten or redistributed. We strive to uphold our values for every story published.