Safford, Ariz. — A mountainside wildfire was within a quarter-mile of a $200 million mountaintop observatory Wednesday, but firefighters were most concerned about summer homes in two small communities in the path of flames.
Crews continued cutting vegetation Wednesday in the Mount Graham communities, where cabins have been drenched with water and wrapped with aluminum to deflect heat.
Officials hoped they could protect the Mount Graham International Observatory, which is surrounded by a broad cleared area and has sprinklers. Fire lines around the blaze were holding Wednesday evening, said fire crew spokesman Bill Duemling.
The same blaze nearing the observatory was about 1 1/2 to 2 miles from Columbine, a community of some 15 homes and cabins.
A second blaze, between the observatory and Turkey Flat, was within a mile of Turkey Flat on Wednesday, and officials were worried that it would strike the community of about 74 summer homes, Duemling said.
The two fires had earlier prompted evacuation of the observatory and both communities. Officials said the blazes had charred more than 22,100 acres combined. Both were 10 percent contained.
Despite the firefighting efforts, some Turkey Flat residents feared the blaze would reach the community's cabins, many of which have been passed down in families for generations.
"I just have a feeling that it's going to be all gone," said Judy Rhoads, adding that she and her grandchildren cry at the thought of the family's cabin burning.
The observatory is home to some of the world's most powerful telescopes. The complex comprises eight buildings and 8 1/2 acres of pine forest on Mount Graham's 10,470-foot Emerald Peak. Although its metal structures should withstand the flames, officials said smoke and heat could damage delicate instruments.
The observatory has two operating telescopes and a $120 million telescope that is under construction. When fully operational next year, the Large Binocular Telescope will be the world's most advanced optical telescope.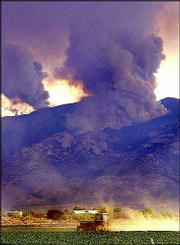 Scientists feared that the fires also could devastate the only population of Mount Graham red squirrels, an endangered species already imperiled by insect outbreaks, habitat loss and long-term drought.
Elsewhere in Arizona, a fire had blackened 90,500 acres of the Tonto National Forest west of Payson, a town of some 14,000 people. The blaze was 22 percent contained on Wednesday and was not threatening any homes or communities.
A separate small fire near the city forced the evacuation of about 85 homes for several hours Wednesday afternoon, said Emily Garber, a spokeswoman for the crew fighting the fire. Residents returned in the evening.
In Alaska, hundreds of residents evacuated last week because of a huge wildfire northeast of Fairbanks were allowed to return home Wednesday.
In central Washington state, firefighters made progress against one of two fires burning near Lake Chelan. A 4,205-acre fire about 3 miles east of the lake and the Columbia River was estimated about 70 percent contained Wednesday afternoon, according to a news release.
A voluntary evacuation remained in effect for about 45 homes in the area.
Copyright 2018 The Associated Press. All rights reserved. This material may not be published, broadcast, rewritten or redistributed. We strive to uphold our values for every story published.