Driving on the Kansas Turnpike is about to get more expensive. And turnpike-style tolls could be expanded to other interstate highways under legislation being considered in Congress.
The Kansas Turnpike Authority said Wednesday tolls would increase Aug. 1 by an average of 5 percent across the system, increasing the cost of a trip from the west Lawrence exit to Topeka, for example, to 85 cents from 80 cents.
Officials said the $3.5 million a year in expected new funds would pay for turnpike improvements in the Lawrence area.
"This toll increase will enable us to make targeted investments for service and safety moving forward," KTA President Michael Johnston said in a news release.
Turnpike drivers aren't happy about the looming increase. James Castle, a Topeka truck driver, makes the trip between Kansas City and Topeka twice a day.
"That's the American way," Castle said during a stop at the turnpike plaza between Lecompton and Topeka. "Raise taxes, raise prices, let the people figure out how they're going to pay for it."
A future possibility
News of the increase comes as Congress is considering a new highway bill that would allow states to levy tolls on other, nonturnpike interstate roads such as Interstate Highways 35 and 70 in Kansas.
"It's an idea whose time probably hasn't come in Kansas yet," said Steve Swartz, a spokesman for the Kansas Department of Transportation, noting the state had five years remaining on a $12.9 billion transportation program. "We do like the idea that this is out there in five or 10 years as a possibility."
The interstate system is mostly free of tolls, although there are exceptions, such as the Kansas Turnpike, for portions of the system that were built before 1956, when federal funding for interstate construction increased significantly.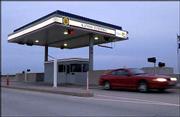 Federal highway funds generally come from the federal gasoline tax. But with the federal government under increasing financial strain, tolls are seen as an alternative source of cash to pay for new and renovated highways.
They can be lucrative. According to its annual report, the Kansas Turnpike Authority collected nearly $68 million in tolls during 2003. It ended the year with $24.9 million in cash and cash equivalents, $4.5 million in short-term investments and total assets of $508 million.
"The Bush administration strongly supports giving states a wide range of choices so they can pick the best solutions to help keep traffic moving," said Mary Peters, Federal Highway administrator.
The proposal has generated opposition from a number of groups.
"The highways are not free," said Mantill Williams, a spokesman for AAA, noting the tax on gasoline. "They're paid for by the motorists."
The highway bill has gone to a conference committee with representatives from the House and Senate. The Senate version of the bill would allow states to charge tolls on drivers using existing highways; the House supports a limited version that would only allow tolls to pay for new and expanded highways, and those tolls would end when the construction bill was paid.
Rep. Jim Ryun, the Republican who represents the western half of Lawrence in Congress, favors the limited approach.
"He believes American people shouldn't have to pay tolls on roads they've already paid with their tax dollars," Ryun spokesman Nick Reid said Wednesday.
Sen. Sam Brownback, R-Kan., cited fiscal concerns in voting against the Senate version of the highway bill, a spokesman said. Sen. Pat Roberts, R-Kan., and Rep. Dennis Moore, D-Kan., both voted for the version of the bill that emerged from their respective legislative bodies.
Turnpike fees
But tolls on the turnpike definitely will increase next month.
Officials say the increased revenue will be used to add one new lane in each direction on the 12.7-mile stretch between East Topeka and Lecompton, a $92.3 million project. It also will pay for the $125 million replacement of bridges over the Kansas River near Lawrence by 2012 and improvements at the east and west Lawrence interchanges.
Because the Lawrence area is the most heavily traveled portion of the Kansas Turnpike, a larger share of the increase will come from area motorists' pockets.
In 2003, according to the Turnpike Authority, the eastbound and westbound lanes between Lawrence and the Eastern Terminal -- to and from Kansas City -- each carried an average of more than 13,000 drivers a day.
The eastbound and westbound lanes between Lawrence and Topeka also each carried more than 13,000 drivers a day, increasing to more than 16,000 drivers between Lecompton and Topeka.
The only other turnpike section outside the Topeka-Lawrence-Kansas City corridor to average more than 10,000 drivers a day is a three-mile stretch between Wichita and the Haysville-Derby exit; both lanes each carry more than 11,000 drivers a day.
"That's our big corridor right there," Lisa Callahan, public relations director for the turnpike authority, said of the Lawrence area.
That doesn't bring any satisfaction to Castle, who said the turnpike -- if it's going to raise tolls -- should bring back humans to hand out the toll tickets instead of relying on automatic machines.
"If they raise tolls," he said, "they can keep their employees working."
Copyright 2018 The Lawrence Journal-World. All rights reserved. This material may not be published, broadcast, rewritten or redistributed. We strive to uphold our values for every story published.