Business is down as much as 25 percent at some Lawrence bars and restaurants since a smoking ban took effect a week ago today.
A random survey of about a dozen bars and restaurants found about half where sales have suffered since the ordinance, which bans smoking in virtually all enclosed public places, became law. Others said it was too early to tell whether the ban had hurt business and a few said they expected it to have no affect or improve sales.
"It has killed us," said Tom Conroy, owner of Kaspar's Bar & Grill, 3115 W. Sixth St.
He compared last weekend's sales to those made during the same weekend for the past four years and found declines ranging from 10 percent to 20 percent.
"I have a lot of customers who can't smoke at home," Conroy said. "They can drink at home, but can't smoke there. Now that they can't smoke here either, they just stay home."
'They're angry'
Rich Davis, co-owner of Captain Ribman's Meat Market, 811 N.H., was among the restaurant operators who said it was too early to tell whether the ban would hurt business. But he said it certainly had hurt some feelings.
"There are quite a few patrons who are angry," Davis said. "They're not angry at us. They're angry at the city commission. They feel like the city commission rammed it through."
Opinions were mixed among patrons dining Wednesday afternoon in downtown Lawrence.
Howard Callihan, Lawrence, said he had been a regular smoker at Henry's coffee shop, 11 E. Eighth St., and noticed a downturn there. He said city commissioners had been overzealous in adopting the ban without first having a public vote.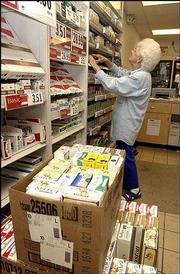 "I don't think it is the most crucial issue in the world," Callihan said. "I think there were lots of other issues they should have tackled first. If they addressed homelessness like they did this issue, I'd have a lot more respect for them."
'Commissioners didn't think'
Not everyone was fuming, though. Howard Seigle, a Kansas City, Mo., resident who was downtown for lunch at La Parrilla, said he lived in San Francisco when smoking was banned there. Lawrence business owners and customers will soon adjust to the new prohibition, he said.
"I just don't buy that it is going to ruin business," Seigle said. "That's what they have been saying all over the country and it just isn't happening."
But while some acknowledged the July 4 holiday landing on a weekend could have depressed business in Lawrence, many said the ban was the biggest factor in sales declines during its first week.
Bob Schumm, owner of Buffalo Bob's Smokehouse, 719 Mass., said business at his barbecue restaurant was down about 20 percent compared with the first weekend of July a year ago. The decline was despite an extensive advertising campaign in Topeka, which he said usually attracted a good crowd. But Schumm said he wondered whether Topeka customers heard about the ban and decided to skip the trip to Lawrence.
"Buffalo Bob's does half its business from out-of-town customers," Schumm said. "I think that is something city commissioners didn't think about. They thought the city was homogeneous. I have a lot of customers who have a lot of other options."
Rush for patios
Several bars said they had made contact with the state's Alcoholic Beverage Control Unit to inquire about adding a small beer garden area to their businesses. Tavern operators said one of the complaints customers had was that they had to leave their beverage behind while stepping outside to smoke.
"I think everybody is going to have to have a patio to survive," said Bob Gruenwald, owner of the West Coast Saloon, 2222 Iowa. "I don't smoke but my girlfriend does and I know on Saturday night when we were trying to figure out where to eat, it pretty much came down to who had a deck."
Josie Nixon, a bartender at the Pool Room, 925 Iowa, said the business had a place for people to step outside to drink and smoke but the smoking ban still was trouble for the billiard hall.
She said the business had seen an increase in the number of beer glasses customers have stolen and that the constant flow of people coming and going strained the bar's bouncers, who check identification.
"Plus there is a lot of filthiness outside," Nixon said. "There's cigarette butts everywhere."
'No big deal'
Judy Keller, executive director of the American Lung Association of Kansas and a Lawrence resident, said she thought the city's bars and restaurants would survive. She also urged people to look at the bigger health issue related to the ban.
"If we were talking about asbestos in a building, we would be talking about worker safety, not profit margins," Keller said. "I understand business owners worry about their business, but I also want them to worry about the health of their employees."
Some businesses said they were not concerned about the smoking ban. Amy Lindsey, a shift supervisor at Stone Creek, 3801 W. Sixth St., said the restaurant previously only allowed smoking in the bar area and at a single indoor table. She said most customers had already learned to do without a cigarette during their hourlong dining experience.
"We don't think it is going to be a big deal," Lindsey said.
Fee Monshizadeh, general manager at Marisco's, 4821 W. Sixth St., said his establishment adopted a smoke-free policy nearly two years ago. He said the smoking ban may bring new customers to his restaurant because smokers no longer would be tempted to choose a smoker-friendly restaurant over his establishment.
Vendors that sell cigarettes were reporting little effect from the ban.
Danielle Dumortier, a clerk at Smoker Friendly, 3010 Iowa St., said the smoke shop had noticed no decrease in sales.
"We have mainly just been hearing grumbling," she said.
Copyright 2018 The Lawrence Journal-World. All rights reserved. This material may not be published, broadcast, rewritten or redistributed. We strive to uphold our values for every story published.