San Juan, Puerto Rico — Andruw Jones and the Atlanta Braves feel right at home at Hiram Bithorn Stadium.
Atlanta completed a three-game sweep of the Montreal Expos with a 14-2 rout on Wednesday night and now is 6-0 in San Juan's park.
The Braves scored 26 runs in this series and have scored 46 times here dating back to last season.
"We should be the ones in San Juan," Atlanta manager Bobby Cox said. "We've had good luck here, we like it here."
The Braves hit six homers -- two by Jones, who drove in five runs, and one each by J.D. Drew, Charles Thomas, Adam LaRoche and Rafael Furcal.
Atlanta got 17 hits in front of 8,534 people.
"I didn't think the ball would go out of here like it did tonight," Cox said.
Jaret Wright (6-5) pitched six solid innings as the Braves won for the 10th time in their last 13 and improved to two games over .500 for the first time since they were 11-9 on April 28.
Jones and Drew each went 4-for-4 and homered in the sixth inning.
"We want to make people know we're still in the race. Now everybody's thinking about us," Jones said.
Livan Hernandez (6-8) worked two-plus innings and allowed six runs on eight hits and two walks.
"The Braves are a veteran team," Expos manager Frank Robinson said. "I'm sure they had a good plan against him, and they were hitting his off-speed."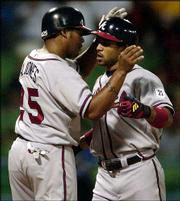 Pirates 4, Marlins 3
Miami -- Oliver Perez outpitched All-Star Carl Pavano, and Pittsburgh played outstanding defense.
Perez (5-4) allowed two runs and four hits in five innings. Five relievers finished with Jose Mesa getting his 22nd save. He struck out Damion Easley with two on to end the game.
Pavano (9-4) allowed four runs -- one earned -- and seven hits in six innings. Rob Mackowiak, Bobby Hill, Craig Wilson and Tike Redman had RBIs for the Pirates.
Pittsburgh threw out the potential tying run at the plate to end the seventh inning on a relay from left fielder Mackowiak to third baseman Hill.
Catcher Jason Kendall threw out two runners in the ninth.
Brewers 4, Cubs 0
Milwaukee -- Doug Davis pitched eight innings, Geoff Jenkins hit a two-run homer, and Milwaukee completed a rare three-game sweep of Chicago.
Davis (9-6) struck out a career-high nine and allowed just four hits and two walks. All-Star Carlos Zambrano (9-4) allowed four runs on eight hits and four walks in 52/3 innings.
The Cubs hadn't been swept in a series of three or more games since Sept. 24-26, 2002, against Cincinnati.
Cardinals 4, Reds 2
St. Louis -- All-Star shortstop Barry Larkin's second error of the season led to the go-ahead run, and Reggie Sanders' seventh-inning single was decisive for St. Louis.
Jim Edmonds homered to help the Cardinals sweep the three-game series and reach 6-0 on their homestand.
In the seventh, Edgar Renteria went to second on Larkin's wide throw to first. Sanders had a one-out single off John Riedling (4-2) to give the Cardinals a 3-2 lead.
Ray King (2-0) won in relief, and Jason Isringhausen got his 20th save.
Mets 10, Phillies 1
Philadelphia -- Mike Cameron homered twice, and Steve Trachsel pitched seven solid innings for New York.
Kaz Matsui had four hits, Cameron had three RBIs and Cliff Floyd and Ty Wigginton also homered among a season-high 18 hits for New York, which has won five of six games at Citizens Bank Park.
Pat Burrell homered for the Phillies, who have two runs in the past two games against New York. The Mets have won two of three so far in a four-game series that ends tonight.
Trachsel (9-6) allowed one run on five hits to beat Brett Myers (5-6).
Dodgers 11, Diamondbacks 0
Los Angeles -- Kazuhisa Ishii pitched his first career one-hitter, and Alex Cora capped a six-run first inning with a three-run homer in the Dodgers' fifth straight victory.
Ishii (10-4), retired the first 12 Diamondbacks and faced only 29 batters. He walked only one batter and struck out five.
Jayson Werth and Jason Grabowski also homered for Los Angeles, which routed Steve Sparks (3-5) and sent Arizona to its ninth straight road loss.
Giants 8, Rockies 4
San Francisco -- Barry Bonds hit his 681st homer, and the Giants snapped a four-game losing streak.
Kirk Rueter (5-6) pitched 61/3 innings, and Pedro Feliz had three RBIs.
Emergency starter Adam Bernero (1-1) took the loss. Joe Kennedy was scratched shortly before the game because of a sore shoulder.
Astros 5, Padres 1
San Diego -- Roy Oswalt pitched effectively into the eighth inning, Jose Vizcaino hit a two-run homer, and Houston snapped a three-game losing streak.
Oswalt (8-6) won his fourth straight start and improved to 4-0 with a 1.13 earned-run average against San Diego. He allowed six hits and one run with six strikeouts, and Oswalt did not allow a runner to reach third until the seventh inning.
Vizcaino equaled his season high with four hits, including the homer in the first inning off Jake Peavy (5-3).
Copyright 2018 The Associated Press. All rights reserved. This material may not be published, broadcast, rewritten or redistributed. We strive to uphold our values for every story published.