Pittsburgh — John Kerry went for energy and optimism in adding former rival John Edwards to his presidential ticket Tuesday -- but he also settled for inexperience.
Kerry aides said the smooth-talking North Carolina senator, the favored vice presidential candidate of Democrats nationwide, can appeal to Southern and rural voters with a well-honed message: that under President Bush, there are "two Americas," one for the rich and one for everyone else.
"Together, John Edwards and I are now going to fight to build one America for all Americans," Kerry said while making the announcement at a rally in downtown Pittsburgh.
Beyond the message, Edwards now becomes a smiling new messenger for a candidate often seen as aloof and even dour, analysts and fellow Democrats noted.
While Bush welcomed Edwards to the race and pledged a spirited contest, other Republicans noted that the former trial lawyer has served only one term in the U.S. Senate -- which they called lean experience to be a heartbeat away from global leadership in an age of terrorism.
Bush campaign manager Marc Racicot called Edwards a "committed liberal and spirited messenger for his party," citing differences over tax cuts and fighting terrorism. The Republican National Committee was not so kind, calling him "a disingenuous, unaccomplished liberal and friend to personal injury trial lawyers."
E-mail, written statements
Kerry, disclosing the Edwards pick via e-mail sent to supporters after the news had broken on television, touted his running mate's credentials by citing Senate efforts "to reform our intelligence, to combat bioterrorism, and keep our military strong."
Kerry, who then dropped into Indianapolis for a brief visit, told a church group that Edwards was "a champion for the middle class, for all Americans' opportunity."
Edwards issued only a brief written statement that he was "humbled" by Kerry's offer, "and thrilled to accept it."
Calling Kerry "a man of strength, character and courage," Edwards said echoed the campaign theme by saluting "those in the middle class who struggle every day to make ends meet, and the millions of Americans fighting to enter the middle class."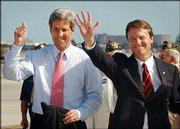 Kerry made the call despite a less-than-warm personal relationship with Edwards, exacerbated by their primary battle.
Like his Republican foes, Kerry reportedly worried that Edwards lacked the experience to step into the presidency if necessary, but aides said that a series of private meetings with the senator eased the concern. Now, they said, the two politicians respect each other's abilities and believe they are complementary.
Ready to campaign
Kerry unveiled his pick earlier than most recent presidential nominees, with nearly three weeks to go until the Democratic convention in Boston. And unlike most photo-opportunity announcements, the candidates were not in public together.
But they will spend the next week in the political and media spotlight, visiting the battleground states of Ohio, Florida, West Virginia and New Mexico before a weekend visit to Edwards' home state of North Carolina.
Aides said they wanted to give the new team as much time together as possible, and the candidates and their families planned to meet privately Tuesday night at the Pennsylvania farm owned by Kerry's wife, Teresa Heinz Kerry.
Edwards and his wife, Elizabeth, arrived in the Steel City later, flanked by their new Secret Service detail. They shook hands along a rope line, as speakers blared Chuck Berry's "Johnny B. Goode" -- the same song used to end Kerry rallies.
Kerry aides said they believed Edwards' moderate Southern image will help attract independents and disaffected Republicans.
"I am determined that we reach out across party lines," Kerry said in Pittsburgh, "that we speak the heart of America, that we speak of hope and of optimism."
Southern strategy
That includes the South, a forbidden territory that the Massachusetts Democrat once discussed abandoning in his run against a Texan. Instead, aides were touting the Edwards selection as suddenly making competitive at least three southern states -- Louisiana, Florida and North Carolina.
Rural appeal, in the swing states of the Midwest as well as the South, also played a role in the Edwards selection, aides said. Edwards made a strategy of visiting small towns in Iowa, where a second-place finish boosted his political stock. Bush won rural voters' support overwhelmingly in 2000; Kerry has courted them, hoping to cut into the Republican's base.
Soon after the Iowa surprise, Kerry and Edwards were the last candidates standing, and over the last weeks of the primary season, they took muted shots at each other's background. Kerry called the North Carolinian too inexperienced; Edwards called the front-runner too much a part of the Washington establishment.
But Tuesday, Kerry was joking about the tension: "I have worked with John Edwards side by side -- and sometimes head to head," he said.
Edwards bowed out of the primaries after being swept in several big states March 2. He immediately endorsed Kerry and began what some political analysts saw as an overt campaign for the second spot, replete with speeches and fund-raising tours.
A string of Democratic office holders and activists also endorsed Edwards for vice president, citing his youth, Southern roots and ability to connect with average Americans as "the son of a mill worker" and a lawyer who fought for ordinary citizens.
Edwards' courtroom skills -- including a well-reviewed performance during the 1999 impeachment trial just days after his Senate term began -- have fueled his meteoric rise. In 2000, Al Gore considered Edwards for running mate before deciding on Joe Lieberman.
Kerry aides said they expected those talents would make him formidable in debate with Vice President Dick Cheney, whom many Democrats consider vulnerable over his intense push to invade Iraq and his corporate ties.
Copyright 2018 The Lawrence Journal-World. All rights reserved. This material may not be published, broadcast, rewritten or redistributed. We strive to uphold our values for every story published.