Every morning at 5:10, Jill Courtney reluctantly listens to her buzzing alarm clock and wakes up from a slumber that her body feels gets shorter by the day.
She prepares for a grueling morning while the sun still sleeps, when the bed she abandoned looks so comfortable and the swimming pool she is heading to sometimes seems like such a chore.
The bed likely is the more appealing option for most, but Courtney is driven by the alternative -- being a champion.
She packs her practice necessities, gets in her car and drives, and drives, and drives. Out of Olathe city limits, out of Johnson County and into Lawrence, where the man she calls the reason for her success is waiting to work her to the limit before sending her home -- all before 9 a.m.
"It can be pretty brutal," Courtney says, "but it's definitely worth it."
A senior-to-be at Olathe North, Courtney is one of the top swimmers in Kansas. Her mentor is Mike Soderling, the leader of the Lawrence Aquahawks and one of the top swimming coaches in the Midwest. The two help each other tremendously: Soderling coaxes all of Courtney's talents out of her, and Courtney becomes another of Soderling's special exhibits on a resume that oozes greatness.
The system works perfectly, and that's why Courtney declined swimming for one of a number of club teams closer to home to make a 70-mile round-trip trek to Lawrence, sometimes twice a day.
"I had been on two other club teams before," Courtney said. "The Aquahawks were kind of my next step. I've been happy ever since."
Courtney won two state titles this May at the Kansas state high school swimming championships, bringing her career total to three. Free State High's Ashley Robinson did the same thing, taking the 100 butterfly and 500 freestyle titles, her second and third overall. Robinson also trains with the Aquahawks a majority of the year.
They hardly are alone. In the last two years, six different Aquahawks have represented their high schools in winning a combined 14 individual state titles. Among them is Courtney, Robinson, Topeka High's Tyler Schmidt, and Free State's Alex Brunfeldt, Anthony Portela and Ashley Jackson.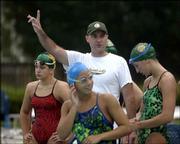 Five Aquahawks, including Brunfeldt and Portela, helped give Free State its first-ever team state title in February. Free State's Katie Swank and Chase Torgerson and Lawrence High's Chelsea Dirks-Ham are among several younger Aquahawks waiting in the wings for their inevitable opportunity to stand on the top step of the state podium.
Without question, Lawrence has become a dynamite city for producing top-notch swimmers, and Soderling is the first person many point to when asked how this came to be. He's a native of Southern California, a former standout for the now-defunct Kansas University men's swimming team, and coach of one of the most powerful club teams in the region.
The secret of his success is no secret at all: A demand for maximum effort, a realization that each swimmer has different strengths and weaknesses, a dedication to make sure those weaknesses disappear as soon as possible, and the constant self-reminder that having fun is just as important.
"I see what the best people in the world are doing and try to bring that here," Soderling said. "We expect a lot. We train like elite swimmers."
¢ Founded in 1968.¢ A USA Swimming member club.¢ Currently has 160 swimmers.¢ Ages range from 6 to 22.¢ Has two head coaches: head coach Mike Soderling and head age-group coach Scott Bliss.¢ Trains at Lawrence Aquatic Center, Indoor Aquatic Center and Haskell Indian Nations University pool.¢ Plays host to Aquahawks Invitational at the LIAC each July. Also known as the Roger Hill Invitational.¢ The majority of Aquahawks train year-round.
Internal mentors
The Aquahawks have become so familiar with Soderling, through all the training over the months and years with the club, that the most complicated of instructions is done without hesitation.
"Two fours, one dolphin on your back, one swim," Soderling barks. "It's not hard. Let's do the set. Hold the walls."
With that, eight swimmers take off, one in each lane. Five seconds later, the next eight go, and so on and so on, until the Outdoor Aquatic Center lap pool is a work of art, with 40 or so swimmers scattered mathematically, all doing the same stroke.
On this day, state champions are dotted across the pool -- swimmers home from college for the summer, swimmers preparing for their first year at a Division One university and swimmers working to make sure a scholarship is waiting for them when the time comes.
Until college takes them away, though, they're Soderling's lab rats. He strives to be an innovative coach, a mixture of old school and new school, ready to test his hunches -- usually good ones -- on his swimmers.
"I research a lot, and I read a lot," Soderling said. "I try to stay on the cutting edge of the sport, but still adhere to what's been successful. A lot of it is being able to trust the instinct and go with something just because you think it might be right. It's experimentation."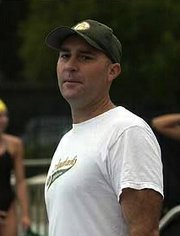 What has come of it is an incredible amount of success in all age groups. Some younger ones, like 11-year old Emma Reaney, already have shown signs of potential greatness, should the hard work continue.
The older ones are starting to see it all pay off in the spotlight. This fall, two more Aquahawks will join storied Division One programs: Brunfeldt, who will leave Kansas with the state high school record in the 500 freestyle to swim for Indiana, and Schmidt, who leaves with the 200 freestyle state record and will compete for Minnesota.
Brunfeldt and Schmidt follow the tracks of many Division One Aquahawk alumni -- including, most recently, Free State grad Joey Van Saun (Boston College), Lawrence High grads Andrea Hemphill (Iowa) and Jon Hemphill (Southern Methodist), and Topeka grad Jonathan Schmidt (Georgia).
"We try to create an environment," Soderling said, "where we can create a champion."
Aqua-Jayhawks
To do that, Soderling has insisted on working close with KU coach Clark Campbell to maximize his swimmers' exposure to the best of the best.
Each summer, a dozen or so KU swimmers stay in Lawrence and train with the Aquahawks. It gives the current Jayhawks a chance to keep in shape, while at the same time staying close to campus.
The younger Aquahawks, meanwhile, are fortunate to have a few more mentors hanging around.
"A lot of it has to do with Clark," Soderling said. "He's really embraced our club program. It raises the level of everything."
Having Campbell, a respected college coach with plenty of contacts, nearby also has enhanced college opportunities for the top swimmers in the club. On Thursday, college coaches were allowed to start contacting incoming high school seniors, including Courtney, Jackson and Portela, and a few of them feel Campbell has been a big help.
"Between him and Mike, they've really gotten the word out," Portela said. "It's been great."
Portela was the high school state champion in the 100 butterfly this year, and, like four of his Free State classmates, trained most of the year with the Aquahawks before joining the Firebirds in January. Those talented five helped Free State to the boys swimming state title in February. The Free State girls, led by Robinson, Jackson and Swank, finished fourth, and might have the tools to win state next year with almost everyone back.
The high school/Aquahawk relationship seems to be a win-win situation for all involved.
"It's very beneficial to us," said Jama Crady, Free State's girls coach and a former LHS, Aquahawk and KU swimmer, "because they keep our kids in shape. By the time we get them in high school season, they're ready, and we don't have to play catch-up."
Seeing his swimmers have so much success in the high school season means a lot to Soderling. In particular, Free State's team state title was a special one for the Aquahawks coach.
"It was extremely gratifying for them to be recognized," Soderling said. "I think it helped our program get some credit. It was the perfect year."
Sky's the limit
A special crop is coming through of high school-age swimmers, including the six individual state champs -- Swank, Torgerson, Dirks-Ham, Chris Wolff and Chris Sellon.
They won't be teenagers for much longer, but It's not likely the talent base at that age group ever will drop off, though. Not the way the Aquahawks are set up.
"I think a lot of reason the kids are so good is they've been in the program since they were 8, 9 and 10," Soderling said. "Our program is such that you progress through the groups, and ideally, by the time you get to (high school), you're swimming at the level that you can be a state finalist."
There are plenty of younger Aquahawks moving swiftly through the system, such as 12-year-olds Cameron Case and Morgan Flannigan and 11-year olds Reaney, Reed Grabil and Logan Sloan.
Certainly, swimmers even younger than that are getting the foundation set for future, similar success. That's how an elite club works.
That's why Lawrence has become a city where swimming has seen more success than any other sport in recent years. And, so long as Soderling is the general of the Aquahawks, he's intent on making it stay that way.
"There's no secret why Lawrence is going to be the hub of excellence in swimming," Campbell said. "We have something special here, and 99 percent of that is because of Mike."
Copyright 2018 The Lawrence Journal-World. All rights reserved. This material may not be published, broadcast, rewritten or redistributed. We strive to uphold our values for every story published.