Dr. Ken Wertzberger likes wine a lot more than the average person. The orthopedic surgeon, who has a private practice in Lawrence, started collecting fine wines in 1985. Since then, he has acquired roughly 2,400 bottles.
"I like wine from every country -- the United States, France, Italy, Spain, Australia," Wertzberger said.
He does have a favorite, though: old Madeiras, a wine similar to port, that's produced on the island of Madeira off the coast of Portugal.
"The oldest bottle I have is an 1830. I drank an 1827 -- it was fabulous. It's a really strange wine that you can't kill. And they say that it even gets better if you leave it out for a couple months, to let it air. I've never been able to test that; I can't wait to drink it," the collector said.
Some lucky individuals soon will have the opportunity to sample a number of Wertzberger's wines.
He's donated 44 bottles, worth approximately $3,500, to the live and silent auctions of the sixth annual "Salute! -- A Festival of Wine & Food," an annual fund-raiser that benefits the Lawrence-based Cottonwood Inc. This year's event will be Thursday through Saturday.
"I'm giving red zinfandels, ports from Portugal, old cabernets, a rare Spanish wine and a rare wine from Washington state that is supposed to be the best merlot in the country, called Leonetti," Wertzberger said.
"I have given something to the auction every year. It seems like a worthwhile event, and I like wine, so they kind of go hand in hand. We see a lot of Cottonwood patients in the office."
Last year's Salute event raised about $50,000 for Cottonwood, 2801 W. 31st St., which is a provider of employment, residential and support services for people with developmental disabilities in Douglas and Jefferson counties.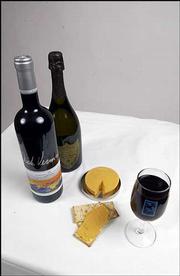 The fund-raiser is sponsored, on behalf of Cottonwood, by Standard Beverage Corp., a Kansas distributor of spirits, wine and beer.
Winemaker dinner, grand tasting
As impressive as Wertzberger's donation to the fund-raiser is, it represents only one aspect of what has become -- in the minds of many who've participated during the past five years -- Lawrence's premier event for those who savor the joys of fine wines and gourmet food.
"Our numbers (of attendees and funds raised) have grown every year. People enjoy supporting this, and they enjoy the Salute! events. We generally get terrific feedback because of the atmosphere that's created with the food and wine," said Dr. Jim Otten, a Lawrence restorative dentist and longtime Cottonwood board member.
He and his wife, Vickie Otten, have served as the chair couple for Salute! each year since it began.
As in past years, Salute! will feature a Winemaker Dinner prepared by Ken Baker, owner and chef of Pachamama's, 2161 Quail Creek Drive. A five-course meal will be paired with wines from a selected vintner -- in this case, St. Supery. The special guest at the Friday dinner will be Karl Runge, representing the winery.
Mass Street Mosey: 5:30 p.m. to 8 p.m. Thursday; stroll along Massachusetts Street while sampling red and white wines and gourmet hors d'oeuvres at eight downtown businesses. Cost: $20. There will be 250 tickets available.Winemaker Dinner: 6:30 p.m. Friday, Pachamama's, 2161 Quail Creek Drive; a five-course dinner prepared by Ken Baker, owner and chef of Pachamama's, with wines from featured vintner, St. Supery. Cost: $100. Only 115 tickets will be sold.Grand Tasting: 6:30 p.m. Saturday, Lawrence Holidome, 200 McDonald Drive; attendees can sample wines from about 200 wineries. Cost: $60.¢ To purchase tickets to these events, call 840-1604. For more details, go to www.cwood.org.
The fund-raiser's centerpiece will be a Grand Tasting event Saturday at the Lawrence Holidome, 200 McDonald Drive. Attendees will be able to sample a variety of fine wines from approximately 200 wineries, as well as food prepared by nine Lawrence restaurants and caterers.
Other spirits also will be available, including scotch, specialty beers and martinis.
Attendees at the Grand Tasting can browse and bid on items in a silent auction, watch cooking-with-wine demonstrations and participate in a live auction featuring wines like those donated by Wertzberger, vacation trips, wine dinners prepared by Lawrence chefs and cooking classes.
The live auction alone will have about 70 bottles of wine for attendees to bid on.
"We got some unique ones -- hard to find, classic and highly rated," Jim Otten said.
Downtown gourmet stroll
But this year's festival of food and wine also will offer an entirely new component: the "Mass Street Mosey."
This event, organized in partnership with the Downtown Lawrence Merchants Assn., will launch the three-day fund-raiser. It will be from 5:30 p.m. to 8 p.m. Thursday.
Those who purchase tickets will receive a special wristband that will enable them to stroll Massachusetts Street while sampling a variety of red and white wines and hors d'oeuvres at eight participating Lawrence businesses.
"This is a way to grow our event because we can't get any more people in the Holidome for the Grand Tasting; we're maxed out," said Peggy Wallert, Cottonwood's director of community relations.
In past years, the Grand Tasting has attracted more than 600 people to the Lawrence hotel.
Friday's Winemaker Dinner at Pachamama's is an intimate affair. Only 115 tickets will be sold to the event.
The Mass Street Mosey is an opportunity to extend the fund-raiser by another day, attract more participants -- and offer an activity that is affordable to a wider range of people.
The Grand Tasting costs $60 per person, and the Winemaker Dinner is $100 per person. But it will only cost $20 per person to participate in the Mass Street Mosey.
The ultimate goal of the three-day festival is to raise funds that will be used to improve the quality of life of Cottonwood consumers, paying expenses that Medicaid dollars won't cover, according to Wallert and Jim Otten.
"Salute! has been an absolutely incredible fund-raiser for us. It enables us to get the mission of Cottonwood out there -- which is to help people with disabilities shape their own future," Wallert said.
Copyright 2018 The Lawrence Journal-World. All rights reserved. This material may not be published, broadcast, rewritten or redistributed. We strive to uphold our values for every story published.