Not finding weapons of mass destruction in Iraq shouldn't be a political liability for President Bush going into November's election, former Congressman J.C. Watts Jr. said Thursday during a trip to Lawrence.
Watts, a Republican who represented Oklahoma from 1995 to 2003, said he was convinced Americans supported the war in Iraq, even if no weapons were ever found.
"We stood with the people of Iraq, despite that we have not found weapons of mass destruction," he said. "I think that's overblown. Saddam Hussein was probably the biggest weapon of mass destruction we could have faced."
Watts' comments came during a news conference Thursday afternoon, before he delivered the 2004 Vickers Memorial Lecture at the Lied Center. The lecture series is sponsored by the Kansas University school of business.
Watts noted that Hussein had used chemical weapons against his people and the people of Iran, and that he had denied access to weapons inspectors since 1991.
"I find it interesting the burden of proof is always on the U.S. to prove he had them," Watts said. "It should have been on Saddam Hussein to prove he didn't have them."
Watts, who will campaign for President Bush this year, also sounded off on the Democratic primaries. He said the race was "John Kerry's to lose," though he said John Edwards could make the race interesting.
But with so much of the candidates' talk on the war and economy, Watts said he thought Bush had an advantage. He said that he was convinced most Americans supported the war and that the economy was improving.
"If they put all their eggs in one basket, I like a little better where the president is," he said.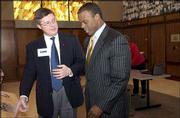 Most of Thursday night's lecture focused on how deregulation, lower taxes and increased competition could create an efficient federal government and healthy economy. About 1,200 people attended the lecture.
"We tax you from when you wake up in the morning until you go to bed at night," Watts said. "Litigation, taxation and regulation doesn't stimulate or grow an economy."
Watts cited three examples of ways competition and deregulation could help government:
Allowing faith-based organizations to receive federal funds for community programs.
"In underserved communities, churches are the cornerstone in that community," he said.
Allowing people to invest a portion of their Social Security contributions on their own.
Providing vouchers for parents to send their children to private schools.
He also advocated the repeal of several taxes, including the inheritance tax and marriage tax.
"We can reduce the size of the federal government by 10 to 15 percent and never recognize any difference with the product or the service, except it may be better," Watts said.
Watts' hour-and-a-half speech ended with a standing ovation.
"I've seen him on political talk shows and usually agree with him, so I decided to see him for myself," said Colby Gordon, a KU graduate student. "He talked about smaller government and less taxes. I agree with that."
Copyright 2018 The Lawrence Journal-World. All rights reserved. This material may not be published, broadcast, rewritten or redistributed. We strive to uphold our values for every story published.