During Thursday's news conference as Kansas University's head women's basketball coach Marian Washington announced she was taking a leave of absence for undisclosed medical problems, the 57-year-old coach talked like she'd be back in a few weeks or, at the latest, the beginning of next season.
Even if Washington was completely healthy, though, the likelihood of her contract being renewed for 2004-05 had shrunk to nearly nothing after the past three seasons.
Coming off 11 consecutive winning seasons and never having finished below sixth in Big 12 Conference play, the Jayhawks were a combined 28-60 during the past three seasons, including an 0-16 league showing in 2001-02.
Those records can't be unnoticed by KU athletic director Lew Perkins, who came to KU last summer from the University of Connecticut. UConn's women went 409-48 and won four national championships during Perkins' 13 seasons as athletic director there, so losing records and second-division conference finishes likely aren't something Perkins will tolerate for long.
Washington's best chance to get her contract extended was to build on last season's six-game improvement and first-round Big 12 tournament victory. Unfortunately for Washington, the Jayhawks are just 8-9 overall and 1-5 in conference play this season. Even KU's lone Big 12 victory ended on a sour note, marred by a postgame scuffle between KU and Missouri players.
Washington landed a top-five recruit in Lauren Ervin, but her record in Kansas and metropolitan Kansas City doesn't sparkle. Crystal Kemp (Topeka), Tamara Ransburg (Kansas City, Mo.) and Blair Waltz (Leawood) are talented, but have been far overshadowed by the Kansas State trifecta of Laurie Koehn (Hesston), Nicole Ohlde (Clay Center) and Kendra Wecker (Marysville).
KU, it would seem, could pick up in-state recruits with little effort. The Jayhawks have Washington, a pioneer of women's athletics, a university with a stellar athletic history and an assistant coach with the stature of Lynette Woodard.
But Washington's failure to land highly touted, in-state recruits has led to a fall from the top echelon of the Big 12.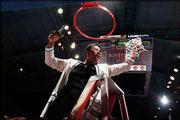 As hard as it is to think of Washington's leave of absence as political and not medical, it's possible Washington saw the handwriting on the wall and let Woodard take over.
Woodard, a four-time All-American, has been an assistant at KU since 1998 and seemed Washington's hand-picked successor and heir apparent. But because of Woodard's connection with the program's rapid decline, the likelihood was slim she would get a shot at the job in a conventional manner. A midseason tryout as coach could improve those chances, though it's unlikely Woodard can redeem herself in the 10 remaining games.
More likely candidates to replace Washington are Connecticut assistants Chris Dailey and Tonya Cardoza, who each have spent at least a decade with the Huskies and are as used to success under Perkins.
Regardless of who replaces Washington or whether she comes back this season, Thursday's announcement was an unfortunate event in her waning days as KU head coach.
Copyright 2018 The Lawrence Journal-World. All rights reserved. This material may not be published, broadcast, rewritten or redistributed. We strive to uphold our values for every story published.