Some things just go together naturally: Abbott and Costello, peanut butter and chocolate, and the Super Bowl and buffalo-style chicken wings.
The National Football League championship game and the spicy finger food were made for each other.
Forget about french onion dip and Ruffles. Push aside that platter of gooey nachos. Those things are fine for any other TV viewing experience.
But when it comes time for the best of the two pro football conferences to knock heads, there's nothing that beckons to the palate like a plate of wings and a schooner of suds.
Looking for proof?
Check out the way take-out orders for buffalo wings annually soar at select Lawrence restaurants -- those especially known for their versions of the delicacy -- during the TV extravaganza.
"Last year I think we had so many wings going out that they had to stop taking orders. They had 1,100 wings called in to go in an hour," says Randy McIntosh, general manager of Jefferson's Restaurant, 743 Mass.
McIntosh expects Sunday to be just as busy.
"If we had 1,100 (wings ordered) in one hour, I imagine we'll go through thousands. We were telling people it would be one and a half to two hours before we'd have orders ready."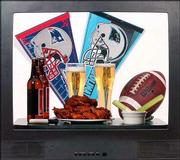 Same story at Buffalo Wild Wings Grill & Bar, 1012 Mass.
"Even before we open Sunday, we'll start getting take-out orders. We try to schedule them at 15-minute intervals -- we can do about 400 wings every 15 minutes. We'll do 1,200 wings an hour for at least four hours," says Michael Kricsfeld, a manager and bartender at the restaurant.
Sunday will be a business bonanza for Mojo's, 714 Vt.
"That's our busiest day. We don't use our fryers for anything but wings. It would be nice to have four or five more fryers back there, but there isn't room," says owner James Langford.
"We'll start doing wing orders at 10 a.m., and we won't stop until 7 or 8 p.m."
Buffalo Chicken Wings----For blue-cheese dressing1/2 cup mayonnaise1/4 cup plain yogurt2 ounces crumbled blue cheese (about 1/2 cup)4 celery ribs3 pounds chicken wings (12 to 14)2 tablespoons vegetable oil (if grilling) or 6 cups vegetable oil (if deep-frying)1/2 stick (1/4 cup) unsalted butter3 to 4 tablespoons hot sauce such as Frank's or Goya1 1/2 tablespoons cider vinegarIn a bowl whisk together mayonnaise and yogurt and stir in blue cheese (dressing will not be smooth). Dressing may be made 8 hours ahead and chilled, covered. Cut celery into thin sticks. Soak celery in a bowl of ice and cold water at least 30 minutes and up to 1 hour. Cut off chicken wing tips, reserving for another use, and halve chicken wings at joint.To grill wings:Preheat grill. Pat wings dry. In a bowl rub 2 tablespoons oil onto wings and season with salt. Grill wings on an oiled rack set 5 to 6 inches over coals until cooked through and golden brown, 8 to 10 minutes on each side.To deep-fry wings:In a 5- to 6-quart kettle, heat 6 cups oil until a deep-fat thermometer registers 380 degrees. Just before oil reaches 380 degrees, pat dry 6 or 7 wings. Carefully lower wings into oil and fry, stirring occasionally, until cooked through, golden, and crisp, 5 to 8 minutes. With a slotted spoon transfer wings to paper towels to drain. Pat dry and fry remaining wings in same manner, returning oil to 380 degrees between batches.In a large skillet melt butter over moderately low heat and stir in hot sauce, vinegar, and salt to taste. Add grilled or fried wings and toss to coat. Serve chicken wings warm or at room temperature with dressing and celery sticks.Source: Gourmet, July 1999.
Macho menu
Why do so many of the finger-lickin' things go flying -- forgive the pun -- out the door of restaurants on Super Bowl Sunday?
Kricsfeld thinks he knows the answer.
It's a guy thing.
"It's like a manly food," he says. "You're eating chicken on the bone, you're watching guys hit each other, you've got your beer ..."
The Super Bowl itself skews heavily masculine. Don't think so? Just look at all the commercials, interspersed between downs, for brews, pickup trucks and power tools.
The same can be said for wings. Guys love 'em -- women, not so much, maybe because wings are famously messy, and it's hard to look demure while gnawing on something.
"It could be kind of a King Henry-type, turkey-leg-eating thing," says Sean Gerrity, owner of Henry T's Bar & Grill, 3520 W. Sixth St.
"Of all the Buffalo-wing-sauce eaters, 70 percent are probably men. Maybe men are just genetically designed that way -- we want the cayenne."
Wings have an undeniably plebeian, blue-collar ethos that appeals particularly to guys. They're cheap. They're easy to put out on game day. And they're also the perfect accompaniment to another man-type, Super Bowl staple: ice cold beer, and lots of it.
What's the best libation to serve with wings?
Domestic beer, say wing experts. That means Budweiser, Bud Light, Coors or the like. Think pale, cool and clear.
"Absolutely a Pilsner. They're light, and they cleanse the palate. A heavy beer would be hard to drink with wings. You wouldn't want a Guinness -- there's too much going on," Gerrity says.
"Pilsners are light and bubbly with alcohol to scrub away the cayenne."
Something that's important to remember when you're trying to douse that fire in your mouth.
Orders up
So what makes a good wing?
Ahh, that's the question.
Some wing-worthy, Lawrence restaurateurs swear it's the sauce. Or the spice. Or a special technique in the kitchen that raises a wing above the ordinary.
"It's just the way that we cook 'em, the length of time that we cook 'em. I can't give away our secret," McIntosh says.
Wings are typically taken from the freezer or the refrigerator and deep-fat fried for 15 to 20 minutes, tossed in a combination of hot sauce and butter, then served.
Gerrity at Henry T's takes an extra step that, he believes, improves the overall taste.
"We sear our wings on our char broiler after they've been dipped in the wing sauce. It cooks off the butter and reduces the runniness of the sauce. It sears the flavors into the wing," he says.
Many restaurants use Frank's Red Hot Sauce, or Louisiana Hot Sauce, as the base for their wings. Henry T's uses fresh garlic, butter, cayenne pepper, Frank's Red Hot Sauce and two secret spices.
Buffalo wings aren't necessarily something you're going to want to make at home the day of the big game.
"No. You're going to make a mess when you fry them. You have to heat the oil to 350 degrees, and, the way we cook them, you'd have to use your barbecue, too," Gerrity says.
"Wings are so cheap (typically 25 cents or less per wing) that there's no reason for anybody to make them at home. If you find a place that makes good wings, you just order them."
Copyright 2018 The Lawrence Journal-World. All rights reserved. This material may not be published, broadcast, rewritten or redistributed. We strive to uphold our values for every story published.