At the beginning of 2003, it looked like the wild ride was over.
For more than a decade, the one constant in the Lawrence economy had been the booming housing market. For 11 consecutive years, Lawrence builders had started at least 300 new homes.
But that streak came to an end in 2002, and the beginning of 2003 looked to be even worse.
"I think people had money to spend, but they were just scared to spend it," said Lee Queen, a vice president with Lawrence-based Edmondson Construction Co. "From last October (2002) to about March (2003), it seemed like we didn't have anybody looking."
Then the ride started again.
Beginning in April, consumers became interested in housing again. After declining in 2002, single-family building permits rose in 2003, according to the city's Building Inspections Department.
Builders started 317 single-family homes in 2003, a 6 percent increase over the 299 started in 2002. Duplex construction was even more prevalent. Builders started 157 duplex projects, the second highest total on record, and up 32 percent from 2002. Combining single-family and duplex construction, Lawrence added 624 nonapartment living units in the city. That total ranks as the third highest single-year mark in the past decade.
The total value of projects started in 2003 also rose. Builders started $148.4 million in new projects during the year, a 4.8 percent increase from $141.5 million in 2002.
The numbers, though, represent a bit of a slowdown from historical averages. The $148.4 million total ranks fifth out of the past 10 years and is below the five-year average of $153.4 million.
If not for a couple of large projects, the numbers would be significantly lower, said Barry Walthall, who oversees building permit totals as the city's codes enforcement manager.
He said the year was helped by $18 million worth of construction on a new manufacturing plant by Serologicals Corp. in the East Hills Business Park and a new residential development at Kasold Drive and Peterson Road. The residential development consists of a mix of 214 single-family, duplex and apartment units.
"Those two projects have really helped the commercial and the residential numbers," Walthall said. "Without them, the year might have looked a little different."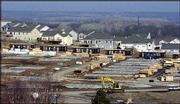 Changing plans
Several builders said the beginning of 2003 made them believe that 2002's downturn was the beginning of a trend.
"I think we were still coming out of the 9-11 thing," said builder Sid Ziegler, owner of Lawrence-based Ziegler Corp. "I can tell you that there were a lot of builders who were scared early on."
Ziegler said he knew of many builders who contemplated canceling new housing starts because they had large amounts of unsold houses, especially in the $300,000 range.
"But then the buying finally started and when it did, it was a madhouse," Ziegler said. "One week you were thinking that you needed to quit building houses, and the next week you were thinking you needed to build a lot more."
Builders said they were uncertain about what caused the sudden increase in business, but Queen speculated that the fact the war in Iraq went relatively well boosted consumer confidence.
Optimistic outlook
Builders are optimistic that confidence will remain high throughout 2004.
"We're busy right now," Queen said. "I can tell you I'm a lot busier now than I was a year ago. We think if interest rates stay steady, we'll be looking at a good year."
Walthall said he also thought the city would see a steady slew of projects in 2004. He said he expected large amounts of single-family and apartment construction in the southeast part of the city on a portion of the former Farmland Industries "buffer ground" south of Kansas Highway 10. He also expects growth to continue to be strong in the northwest part of the city.
Duplexes booming
One other trend Walthall doesn't expect to change is the continued interest in duplex construction.
"I don't expect to see a huge decrease in that number anytime soon," Walthall said. "They just seem to be a little more affordable."
Queen said duplex permits provided insight into whether the city's housing affordability issue was improving.
"Duplexes are a trend because that is probably the only way some people can afford to buy a house," Queen said. "That is what's causing it to be a trend. It's not that everybody loves living in a duplex."
Ziegler said he also thought more builders turned to duplexes because of the uncertainty in the economy.
"It is a safe business for builders because if you don't sell them, you can turn around and rent them pretty easily," Ziegler said.
Lack of land
But 2004's predicted success could be derailed by a shortage of lots to build on, both Queen and Ziegler said. Ziegler said he thought many land developers had become extremely cautious in starting new developments immediately after 9-11. Since it takes about two years for a development to become ready for construction, Lawrence is suffering from a shortage of buildable lots.
Queen said that long development time, which he attributed to a lengthy city planning process, also has contributed to the shortage because there are a limited number of people who can afford to buy land for large-scale developments.
"Just think about how many people can afford to pay $5 million for a piece of raw ground and pay the interest on it for two years and not get a dime back from it during that time," Queen said.
The shortage of lots probably won't do anything to help improve the affordability of housing in the city, Ziegler said. Fewer lots to buy means that the price of the lots likely will rise, adding to the end price of a home.
He said 2004 may be the year where more builders begin looking at smaller communities outside of Lawrence to find cheaper land for home sites.
"What I see a lot of them doing is going out of town, and that does concern me because they're taking a lot of money out of the city," Ziegler said. "If you really start thinking about all the money a builder spends in a town, if we lost that it would really hurt the local economy."
Copyright 2017 The Lawrence Journal-World. All rights reserved. This material may not be published, broadcast, rewritten or redistributed. We strive to uphold our values for every story published.