When a bioterrorism attack happens in Kansas, officials say, local health departments will be on the front lines, and Douglas County is no exception.
Health authorities here and in health departments across the state have spent millions of dollars and most of the past two years preparing for such an attack. Last fall, they received a test: the Lawrence cryptosporidiosis outbreak.
The grade: Incomplete.
"We know," said Kim Ens, Douglas County's bioterrorism planner, "there are some places where we need to do better."
Local health officials said they did a good job coordinating the work of state and federal agencies that responded to the outbreak, and they said they're proud of the epidemiological investigation they built to track victims of the parasitic outbreak. That response, officials said, was the result of bioterrorism planning.
But fierce criticism that erupted over the Health Department's delay in announcing the cryptosporidiosis outbreak. The federal Centers for Disease Control even released a report last week suggesting that future outbreaks should be announced to the public more quickly.
The ruckus shows how, despite an influx of bioterror funding since the Sept. 11, 2001, attacks, more work remains.
Part of the challenge, officials say, is changing the culture of health departments here and everywhere. Until the 9-11 attacks on America, local health officials never expected to be on a war footing.
"We traditionally have been the first line for public health," said Mindee Reece, director of the Kansas Bioterrorism Program. "Since Sept. 11, 2001, the whole public health arena has evolved, and we are looking at things from an incident command, a first-responder experience."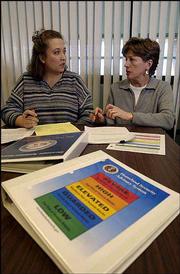 Where the money goes
Officials said that, after the 9-11 attacks, the state had received more than $24 million in federal funding to prepare for bioterrorism attacks. A December report from Trust for America's Health criticized Kansas for not sending at least 50 percent of that money to local health departments; officials say the state now sends 51 percent of the funding to local health departments.
Reece said the state would be "very dependent" on local efforts in the event of attack. The state would provide guidance and technical assistance, she said, but local health departments would be responsible for the grunt work of investigating and responding to suspected outbreaks.
"A lot of the state capacity is for the first few days, or hours, of an event," Reece said. "The local capacity is more for a sustained event."
Edie Snethen, director of the Kansas Association of Local Health Departments, agreed.
"All those public health emergencies happen locally," she said. "Emergencies don't happen at the state level."
Kay Kent, director of the Lawrence-Douglas County Health Department, said her organization received $111,000 in bioterror money in the first round of funding, money used to create a "bioterrorism planner" position, at a salary of $59,254 for the first 14-month grant period, for the department, pay for training expenses and to expand the department's computer network capacity for the extra computers needed during a crisis.
The county should receive $149,000 in the next round of funding, Kent said.
Ens, a longtime health department employee who now serves as the bioterrorism planner, said she had spent her time drafting plans of how the department would share responsibilities with other local agencies in the event of an attack. She also is looking at how to use the National Strategic Stockpile, a federal "package" of pharmaceuticals, antidotes and medical supplies ready for quick delivery anywhere in the United States, should it be needed locally.
The cryptosporidiosis outbreak, she acknowledged, was the first test of plans that had been put in place.
"We definitely exercised our plan," Ens said. "I didn't look at crypto as a bioterror incident, but it was a health incident we responded to."
The Public Health Emergency Task Force is charged with crafting plans and divvying up responsibilities between agencies in the event of a bioterror attack or other major health emergency.Agencies included on the task force:¢ Lawrence-Douglas County Health Department¢ Lawrence Memorial Hospital¢ Lawrence Police Department¢ Douglas County Sheriff's Office¢ Douglas County Emergency Management¢ Red Cross¢ Kansas University Watkins Student Health Center¢ KU Public Safety¢ Haskell Indian Nations University¢ Lawrence school district
Lessons learned
Ens said there were tasks the department did well during the outbreak: coordinating the response of state and federal health officials, she said, as well as creating the epidemiological investigation.
"This was a small incident," she said, "but I was really impressed with how our staff worked together."
But there is work to be done:
Communication. The department was criticized by Lawrence residents because it knew about the first cases of crypto a month before it made the outbreak public. Officials have said they handled the announcement properly, but also acknowledged they needed to do a better job communicating with the public when incidents occurred.
"We also know we need resources for a communications coordinator at the Health Department," Ens said. "Our staff is pretty stretched. We don't have anyone to do that job."









Since the 9-11 attacks, Kansas has received more than $24 million to prepare for a bioterror event. Some critics have said not enough of the money has gone to local agencies. Local amounts below are included in the category amounts.

Federal fiscal year
2002
2003
Focus area (In millions of dollars)
Planning and preparedness
$2.27
$3.15
(Local)
($1.45)
($2.15)
Epidemiology and surveillance
$3.07
$2.66
(Local)
($1.40)
($1.40)
Laboratory capacity and biological agents
$1.17
$0.44
Laboratory capacity and chemical agents
$0
$1.21
Health alert network and information technology
$3.72
$2.77
(Local)
($1.40)
($1.48)
Risk communications
$0.59
$0.57
(Local)
($0.40)
($0.40)
Education and training
$1.57
$1.20
(Local)
($0.70)
($0.70)
Total
$12.38
$12.01
(Local)
($5.35)
($6.13)

Surge capacity. Even though it was a "small incident," Ens said the department's resources were stretched.
"If it gets big quickly, how are we going to handle lots and lots of people?" Ens said.
One solution: The department announced last year it had received federal funding to create a Medical Reserve Corps of volunteers who would respond to public health emergencies.
Internal operating procedures. Health Department staffers were asked to come in early and stay late during the outbreak, but the department's computer systems wouldn't allow staffers access to the building, and it turned off the air conditioning at night, making a tense situation uncomfortable, as well.
'Incident command.' The term for determining how responsibilities will be divvied up among agencies. It's a concept the Lawrence-Douglas County Health Department and local health departments across the country are still learning about.
"I think the whole concept of 'incident command' is foreign to public health," Kent said. "When you're operating in a crisis situation, it would be helpful to have more training in that."
Good example
State officials pointed to a smallpox scare in Leavenworth County as an example of the system working well.
In October 2002, a patient was taken to the emergency room of St. John Hospital in Leavenworth with what appeared to be symptoms of smallpox. Hospital workers locked down the emergency room, sent a blood sample to state health authorities and told the public about the possibility of the disease in an afternoon news conference.
The patient turned out to have a severe form of chicken pox, but authorities praised Leavenworth for its response.
"One of the things these events remind us ... the decisions are made very locally in a very quick manner," said Sharon Watson, spokeswoman for the Kansas Department of Health and Environment. "Those things remind us how prepared the local entities need to be."
Sylvia Burns, director of the Leavenworth County Health Department, said "everybody did what they were supposed to do."
That included quick communication with the public.
"That's part of the plan, that we let the public know what's going on," Burns said. "Just for their general knowledge -- you don't want a group of people that are going to panic because of hearsay from other people. It's better that they understand how to protect themselves."
The key, Burns said, was the planning and preparation that already had taken place. Officials knew the plan and their place in it once an actual emergency was under way.
"We just kind of fell into place, as far as what needed to be done," she said. "It was what we had met about and talked about previously."
But despite the praise, the department continues to work out kinks in its bioterrorism response plans.
"That threat is out there ... it does exist," Burns said. "I don't think people really thought about it until 9-11."
'Our language is different'
Indeed, officials statewide said one of the biggest challenges has been to redefine the cultures of local health departments to prepare not just for an act of nature, but for an act of war.
Kent said working with law enforcement officials was new for health officials and could pose a challenge.
"Our language is different," she said. "When we talk about 'surveillance,' we're talking about disease surveillance, but when they talk about 'surveillance,' they're talking about a person. So we even need the language to work together."
But Paula Phillips, director of Douglas County Emergency Management, said the preparation for Mother Nature and al-Qaida could be similar.
After the cryptosporidiosis outbreak, she said, the county's Bioterrorism Task Force renamed itself the Public Health Emergency Task Force.
"It should be approached and managed in the same way," Phillips said. "It's wrong to think these types of events are all going to be caused by terrorists. Look at the mad cow -- that was not terrorist-initiated, but it has the potential to create an impact like a terrorist event."
Reece said she was confident local health departments could do the job.
"I think, in Kansas, our local health departments are much better prepared today than they were two years ago," she said. "If there was an incident tomorrow, I think the health departments in our state would handle it very well."
Copyright 2018 The Lawrence Journal-World. All rights reserved. This material may not be published, broadcast, rewritten or redistributed. We strive to uphold our values for every story published.