The death of a Wichita State University student, two cases at Pittsburg State University and a governor's pleading are prompting Kansas University health officials to encourage students returning to campus to be vaccinated against meningitis.
In a Jan. 5 letter, Gov. Kathleen Sebelius formally asked the Kansas Board of Regents to "take steps to protect Kansas students from meningitis."
The governor's letter came days after two students at Pittsburg State University contracted bacterial meningitis. Two weeks later, 20-year-old Wichita State student Vadim Downey died from the disease.
"We are always watching out and worried about it," said Dr. Myra Strother of Watkins Health Center. "It's very rare, but very deadly."
Meningitis comes in bacterial and viral forms, and causes inflammation of the brain and spinal cord. Bacterial meningitis, however, is much more deadly.
Strother said KU was taking steps to prevent an outbreak in Lawrence.
"This year, with the cases in Wichita and Pittsburg State, we've gone and posted information in all of the dorms and spoke with all the resident advisers so they could talk to the students and offer information," she said.
College students are particularly prone to the disease, Strother said, because of their lifestyles and living conditions.
"There's always the bacteria around," Strother said. "But college campuses have student housing, with a bunch of students living close together, which have a higher chance of spreading it to each other."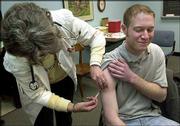 KU's last known case of the disease occurred a year ago, when education professor Steven White contracted bacterial meningitis.
Two weeks later, a 29-year-old law student contracted viral meningitis. Both were treated and recovered from the disease.
"We usually end up with one case every other year," Strother said.
Incoming freshmen are encouraged annually by KU to be vaccinated against meningitis.
Copyright 2017 The Lawrence Journal-World. All rights reserved. This material may not be published, broadcast, rewritten or redistributed. We strive to uphold our values for every story published.