Marcus Oliveira isn't exactly a household name. But with a little luck and a lot of hard work, he just might be the next Muhammad Ali.
"I want to go pro. I'm ready," said the 24-year-old Oliveira, who recently returned to Haskell Indian Nations University from an unsuccessful tryout for a spot on the U.S. Olympic boxing team.
He hopes to try out again next month. Until then, he'll continue to hone his craft with his friends in the Haskell Boxing Club, an informal group of more than 20 students who work out together Tuesdays, Wednesdays and Thursdays in a makeshift gym in Winnemucca Hall on the southern edge of campus.
Interest spreading
"There's a lot of interest here," said Chris Wilkes, a member of the Pit River Paiute tribe in northern California who started the boxing club. "We probably have 30 members. Some of them come just to work out and watch; out of those we have eight or so who are solid (boxers)."
About a third of the group are women.
"At first, we were no-girls-allowed," Wilkes said. "But so many were interested, we said OK. They've turned out to be a real good addition. They don't come in with all the preconceived notions that the boys do."
Haskell and the boxing club will play host to the 2004 Ringside Native American Boxing Championships set for July 8-10, an event expected to draw more than 150 novice and amateur boxers -- men and women -- to the university's Coffin Sports Complex.
"We'll probably have two rings set up" on the basketball court, Wilkes said.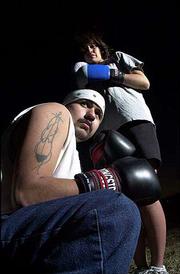 Novices, seasoned fighters
For now, though, Oliveira is the club's headliner.
"Marcus is great, man," said 32-year-old Erik Riley, one of the club's two ringleaders. "He's the one who sort of got me interested in boxing. A bunch of us guys got together for some strong-man competition and nobody wanted to box with Marcus, so I said I would. I'm bigger than he is. I was macho.
"But, man, he had my butt kicked in like 30 seconds," Riley said. "I was like, 'Wow, how'd he do that?' That's what got me interested in boxing, and now it's the only sport I care about. It's the only sports thing I watch on TV."
Riley, who graduated from Haskell in 1996, works at Allen Press in Lawrence. He works out with the Topeka Golden Gloves group Mondays, Wednesdays and Fridays.
"I'm still a novice," he said. "I've only had six fights."
Oliveira, a member of the Wisconsin Menominee tribe, said he racked up more than 100 fights by the time he was 16.
"I stopped counting after that," he said, guessing the total now is close to 185.
Oliveira started boxing when he was 8 years old.
"My mom, she worked in the casino there in Wisconsin," he explained. "We didn't have a baby sitter, so after school I'd go to the boxing club and hang out there. A lot of times, I'd be there from after school 'til 9:30 p.m., when she picked me up."
A junior majoring in environmental science, Oliveira said he hoped to find a sponsor -- someone who will pay him to box or train for the Olympics -- soon after he graduates.
"I have to try it," he said. Until then, Oliveira said he would keep playing on Haskell's men's basketball team.
"He's a tough guy," said Haskell basketball coach Jamie Morrison of the 6-foot-2, 185-pound fighter. "He's tougher than any 6-7, 6-8 guy we'll see all year. The guy knows no fear."
Points matter
Amateur boxing, Wilkes said, is not about beating up an opponent. Instead, winners are decided by a point system based on how many times the tip of one participant's gloves strikes the other participant's torso or head.
"Amateur boxing is totally different from what most people think of when they picture professional boxing," he said. "In fact, starting out, we start out with no contact."
Wilkes encouraged anyone who's interested in joining or donating to the club to call his cell phone, (530) 209-7044.
"There are lot of things we'd like to do, like visit some of the gyms in Kansas City or Topeka or maybe go to some (professional) fights," he said.
Copyright 2018 The Lawrence Journal-World. All rights reserved. This material may not be published, broadcast, rewritten or redistributed. We strive to uphold our values for every story published.