It has been awhile since the Free State High girls basketball players have emerged from the locker room after a game feeling good about how they played, but Friday night was different.
The Firebirds lost, 63-56, to Topeka Highland Park at FSHS, but this defeat didn't sting as bad as the previous two. That was because they showed improvement in so many areas against the Scots, a Class 5A state-tournament qualifier last year.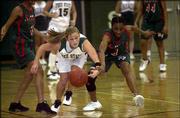 Free State (3-5) created numerous scoring opportunities, played intense defense and, most importantly, took care of the ball. After having 58 turnovers the last two games combined, FSHS turned the ball over just 16 times against Highland Park (6-5).
"We talked about that before the game, that we wanted to make sure we could come into the locker room and be proud of ourselves and the team, and we were," Firebirds coach Bryan Duncan said.
"Our guards were outstanding tonight. Wallis Romzek was very impressive. Our backup point guard got hurt in the JV game, and Wallis stepped up. She took everybody on her back and got it done and led the team. She did what point guards are supposed to do tonight."
Better ball control is what gave Free State a chance. The Firebirds were patient on offense, made crisp passes and maintained their composure despite heavy pressure from the Scots' feisty guards. A week ago this never would've happened.
"We're really starting to come together," said Romzek, who had five points and five assists for Free State. "We've been working all week on having more intense pressure on top, and we've been pushing each other more in practice so it's making the rest of us learn to handle the pressure in games easier. I think we're on our way now. We've just got to keep working hard."
The thorns in Free State's side were missed shots and an inability to combat Highland Park's physical forward Nettie Hunt. Hunt scored a game-high 20 points, while Amber Parker added 16 for the Scots.
Banaka Okwuone scored nine points in the first half, but she was the only Firebird to find success from close range. FSHS led most of the half, but didn't capitalize on enough open looks so the game was tied at 26 at halftime.
Cold shooting struck Free State in the third quarter while the Scots went on an 18-6 run with frequent buckets by Hunt and Parker. During that 6:30 stretch Duncan was smacked with a technical foul for appealing an official's call. That got the Firebirds' attention.
It also seemed to fire up Jamie Stanclift. The junior forward had been hobbled by a quadriceps injury, but she scored three straight buckets and rattled off 14 of her team-high 17 points the rest of the way. The Firebirds cut a 12-point deficit to three before Highland Park put the game away at the free throw line.
"We executed everything that we said we would," Stanclift said. "We had a great week of practice and we did everything like we practiced it. It just didn't all come together the way that we needed it to in the end, but in the future I'm sure it will."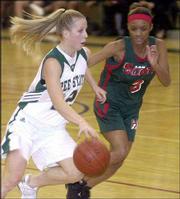 Copyright 2018 The Lawrence Journal-World. All rights reserved. This material may not be published, broadcast, rewritten or redistributed. We strive to uphold our values for every story published.