Culver — Billowing clouds of grain dust rise above the parked semi-truck as milo from one of the grain elevator's last full bins is dumped into a waiting trailer.
The manager, Rich Stanley, is stoic as he prepares to close the Farmers Co-op Assn. elevator from a full-time to a seasonal operation open only during the harvest. "It's a business decision," said Stanley, who grew up in the little white house across the elevator.
But townsfolk are grieving for the loss of the last remaining business in this wind-swept prairie town. Fewer than 150 residents still live here, keeping alive the memory of a time when this community still was a thriving burg.
"We don't want it to die yet," said resident Claudia Griggs.
Hub of life
In small Kansas towns and across the rural Midwest, grain elevators have become the social center of communities -- often the last place where the men gather for morning coffee to swap local gossip. Even the town's children come here because it is often the only place left in many remote towns where they can buy a soft drink or get a candy bar.
The elevators, lovingly dubbed "Kansas skyscrapers" by locals accustomed to the state's flat landscape, are increasingly falling victim to the economic ravages of drought and low grain prices.
Last summer, grain elevators in three Kansas communities closed when Edmond-based Brady Grain turned over its elevators in Edmond, Stuttgart and Norton to state regulators.
About two years ago, workers began dismantling the grain elevator in Beverly in Lincoln County. Nearby Kipp also has lost its elevator.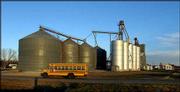 Still remaining are 721 elevators scattered in towns across Kansas, according to figures compiled by the Kansas Feed and Grain Assn., an industry trade group. Kansas elevators store 858 million bushels of wheat, corn, milo and soybeans.
Despite the recent closures, the state's total grain capacity has not fluctuated much in recent years, said Tom Tunnell, executive director of the Kansas Feed and Grain Assn.
But the switch to seasonal operations is subtly changing the fabric of communities.
The loss of rail service, tighter government regulations on fertilizer and chemical storage because of homeland security concerns and higher insurance costs are all driving the trend, Tunnell said.
'Hate to see it go'
As a young girl, Dorothy Schur, 80, would ride with her father in a horse-drawn wagon to take grain to the elevator in Culver and to buy groceries and lumber while in town.
Schur and her 81-year-old husband, Ralph, still farm 600 acres of wheat and run a cow herd on the family farm two miles outside of town.
Ralph Schur has done business with the Culver elevator, which has changed hands seven times in his 57 years of farming. It is now owned by Talmage-based Farmers Co-op Assn.
The Schurs bought all their fertilizer at the local elevator but have been taking more of their wheat to a Salina elevator where they can get 20 to 23 cents per bushel more for their crop.
"I hate to see it go -- it is the last business up there," he said.
Ralph Schur was one of the regulars for coffee at the elevator. His wife will miss even more the community news -- the births, deaths and stories -- he brought home from the elevator coffee gatherings.
"Sometimes they have people buried before we know about it," she said.
The Farmers Co-op Assn. plans to transfer Stanley to its Solomon elevator, a 30-mile commute for him. The elevator plans to reopen for wheat harvest in June as well as the fall harvest of other farm crops.
The firm owns year-round elevators in Talmage, Abilene, Bennington, Solomon and Longford as well as a store in Salina and seasonal operators in Niles, Wells and Culver.
As the last bushels of grain were emptied at the Culver elevator this month, folks gathered at the Culver Senior Citizens Center and recalled the town's heydays when the population numbered around 450 people.
Back then the town boasted a filling station, barber shop, bank telephone office, creamery station, drug store, hardware store, grocery, cafe and post office. All are now gone.
Viola Stanley, 88, was born in Culver and now lives across from the grain elevator. Her son is the elevator's manager.
"It means a lot to me," she said of the closure. "I will be losing my son. It was the only business left."
Copyright 2018 The Associated Press. All rights reserved. This material may not be published, broadcast, rewritten or redistributed. We strive to uphold our values for every story published.