Philadelphia — The inside cover of Temple's media guide chronicles John Chaney's "Road to 700," listing milestone victories, staring with his 100th in 1977.
The names jump off the page for Chaney -- names of his former and current players, and all of his support staff and assistant coaches ... such as close friend Jim Maloney, who died nearly eight years ago of a heart attack.
The games tend to run together. The people and the experiences are what Chaney remembers more as he tries to become the 20th college coach to reach 700 and the fourth still active. A win today at Massachusetts will earn him the milestone.
"I tend to look at any kind of accomplishment in the right perspective," Chaney said. "Many people have been associated with this that I owe so much to. You reflect and you tend to count your blessings. Both losses and wins have great significance because of the energy they put into it."
Chaney got his 699th victory Wednesday night, 73-69, over Penn at the Palestra. The win came on his 72nd birthday, and Penn coach Fran Dunphy presented Chaney with a cake prior the game.
As both teams warmed up, Chaney sat alone, high up in a corner of the old building on a plain bench. A couple of fans stopped by to shake his hand and an usher came over to make sure he was OK.
Chaney said he was fine. High above, he was merely taking in the scene. Finally, only 20 minutes before the opening tip, he headed down to the locker room.
The 2001 Hall of Fame inductee is 699-277 in 32 years as a coach at Division II Cheyney State and Temple, 474-218 in 22 years with the Owls.
Only Bob Knight, Lou Henson, Eddie Sutton and Lute Olson are the active coaches with more career victories. It's a group Chaney is proud to join.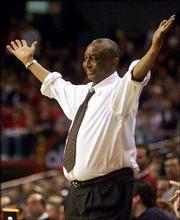 "The biggest bond of all great coaches has been discipline," he said. "It's been getting youngsters to buy what you're selling. Recruiting good players has always been one of the prerequisites, but you have to be able to teach and sell the players the ideas you want them to abide by."
Chaney considers himself a teacher first, always interested in educating his players on everything from the matchup zone to a history lesson on the greats of the game.
He's a father figure and a mentor to the scores of players he's recruited from inner-city homes and bad schools.
David Hawkins, a senior and the only Owl to play in the NCAA tournament, said Chaney is a disciplinarian who placed as much emphasis on school as on basketball.
"He tries to get the best out of everyone. He constantly pushes you on and off the court," Hawkins said. "He's always there talking about our books. About our education. Off the court, he's fun to get along with. You can talk to him. He's really open."
Copyright 2018 The Associated Press. All rights reserved. This material may not be published, broadcast, rewritten or redistributed. We strive to uphold our values for every story published.