When it comes to education issues, Laura Bush does her homework.
That was the impression of Don Deshler, a Kansas University professor who met with Mrs. Bush Wednesday in Orlando, Fla., to discuss adolescent literacy.
Deshler said it was apparent the first lady had read background materials he sent to her office about a KU reading program that likely will be central to a new national literacy initiative.
"She made specific reference to instructional strategies," he said. "It was a very engaging conversation. It had some good give-and-take."
Wednesday's meeting was part of a national effort by the Bush administration to push initiatives introduced during Tuesday night's State of the Union address.
Mrs. Bush toured Discovery Middle School in Orlando, which uses a reading program developed and tested at KU's Center for Research on Learning.
The program, called the Strategic Instruction Model, or SIM, involves several strategies, including methods for students to learn new vocabulary words, paraphrase paragraphs and restate them in their own words, and create mental pictures as they read. Deshler and his team have developed extensive instructional and supplemental materials based on their research to support the program.
After the tour, Deshler moderated a 35-minute roundtable discussion on literacy issues that involved Mrs. Bush, a SIM trainer, the school's principal and three teachers.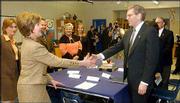 Mrs. Bush also formally announced a plan to pump $100 million into a program called "Striving Readers Initiative," which is targeted to junior high and high school students. The money would give grants to school districts to implement programs such as SIM.
"A lot of the students who can't read are the ones who drop out because of frustration, because of embarrassment, because of all the social problems that come with illiteracy," she said.
Deshler said it was still unclear how KU might be involved in the new readership initiative, if the funding is approved by Congress. But he said KU was in a good position to assist with the project.
"It's been, for many reasons, a wonderful opportunity personally," he said. "But more significantly, it's what it means for the university, the center and most of all, for all the kids who need this kind of attention."
Copyright 2018 The Lawrence Journal-World. All rights reserved. This material may not be published, broadcast, rewritten or redistributed. We strive to uphold our values for every story published.