Douglas County spent $435,000 to install a safety system that includes 33 new tornado-warning sirens and accompanying computer monitors to track their conditions around the clock.
The least the county can do now is spend $11,000 a year to ensure that the sirens sound when necessary, a county official said.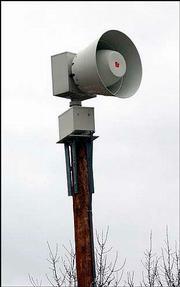 "It's critical that the sirens operate, that they be operating every single day, because severe weather can occur at any time of the year," said Paula Phillips, the county's director for emergency management. "We like to have the sirens operating at all times."
Douglas County commissioners soon will be asked to approve an annual maintenance contract for the system. Phillips anticipates hiring Blue Valley Public Safety of Grain Valley, Mo., which has handled the county's maintenance since 1998.
The $11,000 contract would do more than keep the sirens running, Phillips said. It also would preserve the manufacturer's warranties on the sirens, which were installed in 2001 and 2002.
Blue Valley Public Safety is certified by the manufacturer, Federal Signal, to care for the sirens. Without such a company taking care of batteries, working on wiring and otherwise responding to problems, the warranties would be void.
The equipment remains under warranty until 2006.
"Can we afford to lose our warranty? I don't think so," Phillips said.
Blue Valley Public Safety's crews already have responded to 51 service calls from the county since 2000, with many of the problems involving weather-related damages. Crews have rewired switches, replaced fuses, reprogrammed electronic equipment, replaced batteries, fixed locks, cleaned springs and even straightened the 60-foot-tall poles that support the sirens.
Phillips figures that the existing maintenance contract has saved the county $17,600 during the past three years.
Properly maintained sirens can be expected to last 30 to 40 years, Phillips said.
Commissioners are expected to review the maintenance contract next week. The existing contract expired Dec. 31, but Blue Valley Public Safety is continuing to work under the existing conditions while a new pact is considered.
In 2005, Phillips said, officials should review other options for maintenance, such as using county crews to replace batteries or considering other contractors for the work.
Copyright 2018 The Lawrence Journal-World. All rights reserved. This material may not be published, broadcast, rewritten or redistributed. We strive to uphold our values for every story published.