In the winter, nothing quite satisfies like soup.
Many find themselves hankering for a bowl of warm tomato dill, garden vegetable or a hearty chowder.
"When you walk in the door and there's a pot of soup on, it just feels so homey and inviting like no other time of year," says Nancy O'Connor, nutrition educator and marketing director of the Community Mercantile Co-op, 901 Iowa.
"I like to make variations on vegetable soup, sometimes throwing in beans and pasta to make a minestrone. I make a lot of lentil soup, and last night we had black bean soup, which we love. We had salad with black bean soup and a dollop of sour cream, seasoned with a little cumin."
John Thompson, chef de cuisine at Free State Brewing Co., 636 Mass., sees the number of people ordering soup at the restaurant soar during winter.
"Chicken noodle soup flies out of here. This time of year any type of chili we make will be gone almost instantly. I made a steak soup last week that didn't last too long. I'll use 10 gallons of soup on a really cold day," Thompson says.
To Mari Ruck, soup is the ultimate comfort food.
"There's nothing like smelling a pot of soup simmering on the stove. It's a warming kind of feeling," says Ruck, co-owner of the Food Bin, a specialty store in Shawnee, and a cooking class instructor at the Lawrence co-op.
"My husband and I probably have soup four or five nights a week. I make a lot of vegetable soups, I make a leek-and-potato soup, a tortellini soup with sun-dried tomatoes and parmesan cheese, and a lentil soup."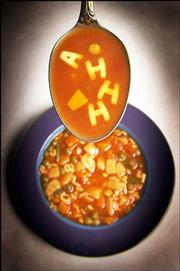 Her Black Bean, Yellow Pepper and Cumin Chili -- with a touch of spicy heat -- can help ward off the winter shivers.
Using ingredients on hand
One of the appealing qualities of soup is its versatility.
"It's the kind of thing that's great for a weekend or a day when you can have something on the stove and let it simmer," says Paige Vandegrift, a private chef in Kansas City, Mo., who also teaches cooking classes at the Mercantile in Lawrence.
"It's also something that can be done ahead of time, and you can just add a few vegetables to freshen it up, or add a garnish."
One she's made many times is her Roasted Winter Squash Bisque, in which she uses garlic, butter and honey to help caramelize the surface of the split squash.
Homemade soup is typically easy to make, and you can often prepare a batch with produce or other items that you already have in the kitchen.
"You just look and see what's in the vegetable drawer, and that's what you're going to make," Ruck says.
That's how O'Connor often does it.
The Community Mercantile Co-op, 901 Iowa, will be playing host to cooking classes during the next few months. Here's what on the menu:¢ Chef Paige Vandegrift, of Kansas City, Mo., "The Many Ways to Top a Pasta," Jan. 28; "Homemade Breakfast Breads for a Chilly Winter Morning," Feb. 24; and "A St. Patrick's Day Feast," March 10.¢ Mari Ruck, co-owner of the Food Bin in Shawnee, "Cinnamon Rolls 101," Jan. 31.¢ John Thompson, chef de cuisine at Free State Brewing Co., "Making the World's Best Chicken & Noodles," Feb. 3.¢ Nancy O'Connor, nutrition educator and marketing director of the Mercantile, "A Nourishing Winter Meal," March 11.For more information about these classes, contact the Mercantile at 843-8544.
"The best soup is one you just make with ingredients on hand, enjoying the process of rummaging through your refrigerator. There aren't many mistakes in soup. Just enjoy the whole process of chopping, sauteing and being inside on a cold day," she says.
Thompson, of Free State Brewery, has to be more selective about his ingredient selection.
"There's a little bit of thoughtfulness that goes into it. We try not to just use things up. That's a mistake a lot of people can make. It still needs to be made with fresh ingredients; you can't just dump what you want to get rid of onto people," he says.
"But a lot of times there will be a salmon on special one night and the next morning there will be two pounds of salmon left, and you want to do something with it. You could make an Asian miso broth and add the fish at the last minute, or you could make Quick Seafood Chowder. There might even be some kind of sauce that you want to use that ends up being the basis for a whole batch of soup."
No place like home
Another good thing about soup is that it can serve as a nutrient-loaded meal that is both convenient and economical.
"Depending on how you make soup, it can be pretty healthful -- relatively low fat and high in protein. You can also control the amount of sodium. When you buy canned soup, they tend to be very high in salt, and there's nothing you can do to reduce it. At home, you can control all those components," O'Connor says.
"If you complement soup with a nice, healthy salad and a whole-grain bread it can be an entire meal. It's very down to earth and affordable."
The soup that O'Connor tends to make the most is her own Potato, Corn and Cheese Chowder. It's one she included in her "Rolling Prairie Cookbook: Over 130 Recipes Celebrating Fresh Produce" (Chelsea Green Publishing Co., 1999).
"Of all the soups we have ever sampled at the co-op, that particular one has probably gotten the most number of comments from people," she says.
"It's also a forgiving recipe. You can make it with slightly different ingredients, and it still turns out wonderfully. It's familiar and comfortable. It tastes like something that would remind you of home."
Copyright 2018 The Lawrence Journal-World. All rights reserved. This material may not be published, broadcast, rewritten or redistributed. We strive to uphold our values for every story published.