Nearly 100 elementary students at Veritas Christian School had a surprise visitor Tuesday who was larger than life.
It was a guy with 85-inch hips, lots of fur and a pleasant demeanor. KC Wolf, mascot of the Kansas City Chiefs, burst into the private Lawrence school's gym. He ran around hugging children and wiggling his tummy.
Wolf was there to entertain but also to honor sixth-grader Matt Breshears.
Breshears was among 23 students from Kansas, Missouri and Iowa to receive the top prize in the "Score a Touchdown with 3-Dairy-A-Day" poster-drawing contest sponsored by Midwest Dairy Council and the Chiefs. There were 3,476 drawings entered in the contest.
"It was a total surprise," said Breshears, 12. "It's exciting. It's a lot of fun for the Wolf to be here."
His drawing featured a large glass of milk and a Chiefs helmet.
There were no other winners from the Lawrence area, said Terri Langner, spokeswoman for the Dairy Council.
She said the purpose of the contest was to encourage instruction about the five basic food groups. By doing that, she said, students might be convinced to include milk in their diet.
Before speaking with the students, Chiefs mascot Dan Meers pulled off his colorful 35-pound suit to reveal the inner self of KC Wolf.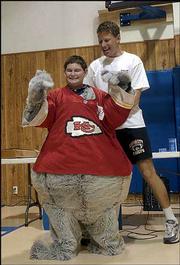 "I get to go to work in a suit and tail," he joked.
He said the job required that he keep in good physical shape by paying attention to exercise and nutrition. He told students that drinking milk and maintaining a diet that included grains, meats, vegetables and fruits was important for Chiefs players.
"They don't eat a lot of Twinkies and Krispy Kreme doughnuts," he said.
Copyright 2018 The Lawrence Journal-World. All rights reserved. This material may not be published, broadcast, rewritten or redistributed. We strive to uphold our values for every story published.